Singer - Victoria Duffield
August 25, 2014
Victoria is a up and coming actress and singer who's touring with the Backstreet Boy this summer! Her new album "Accelerate" is out now! Read below to find out more!

MissO1: You are touring with Backstreet Boys – they have been out there like forever – what was your reaction when you first heard about co-headlining the tour?

Victoria: I was ecstatic! I've always been a big fan of them so hearing about the opportunity to tour across Canada with them was pretty surreal for me. Let's just say I screamed quite loud and was in shock for quite some time! Lol.

MissO2: How does it feel touring with them?

Victoria: It was such an amazing experience getting to tour with the Backstreet Boys. Just the fact that I got to share a stage with them each night was such an honor.

MissO3: Tell us about your new album "Accelerate". How much you have self-written tracks in it, the music etc.

Victoria: I'm really excited about my new album Accelerate. I think it really captures me as an artist and I was able to express many of my own thoughts within many of the songs. I was part of the writing process for the majority of the songs, and there are also some songs that other accomplished writers sent for me to listen to that I absolutely fell in love with and wanted to make them my own. I think there is a great mix of emotion and vibes in Accelerate and the overall message is to go after what you want and keep moving forward, which I believe is a great motto to live by.

MissO4: "More Than Friends" is an upbeat track – like most of your songs. Is it about anybody in particular?

Victoria: More Than Friends is a very relatable song, in my opinion. To me it's about going after what you want and not limiting your potential. This can be ***related to so many circumstances in life. Within the lyrics, it directly describes a situation where someone wants to take their friendship to the next step… that I can relate to!

MissO5: Can you describe the new songs in one sentence:

Paper Planes

A fun song that expresses anything is possible.

2 Become 1

This is a light, fun love song about the amazing feeling when you meet "the one" for you.

Kiss Me In The Middle

A fun dance song about seizing the moment and taking chances.

Cherry Red ft Jerzee

This is a cool pop song with an edgy vibe. Great driving song!

Sawdust

A raw, emotional ballad; one of those songs you can listen to and get lost in the story of the lyrics.

Hate To Say It

An upbeat ballad about realizing what's best for you and being strong/confident in making positive changes.

That Something ft. MoD

This is a song about finding a certain someone with that indescribable spark that makes them stand out.


Holographic

This is a moody dance song with lots of attitude and makes you wanna dance! …well at least for me it does!

I Like It Like This

This is a jazzy pop song with personality and a fun, flirty vibe.

Bullet Proof

This is a darker song on the album that has a raw sound to it. It's about feeling safe and complete with someone and never wanting that to change.

MissO6: How was it like working with MoD and Jerzee?

Victoria: Unfortunately, we did not record the songs together. It would have been great to work off of their energy and vibe, but I was really happy with how the songs came together. They are both so talented and made amazing additions to my songs.

MissO7: Fans took your collab with .com/interviews/cody-simpson-interview.php" style="text-decoration: none;" target="_blank">Cody Simpson "They Don't Know About Us" so well – it made a hit. Would you do a collaboration like that again with some other singer like Cody?

Victoria: Definitely! Working with Cody was awesome, and I'd love to do more collaborations in the future.

MissO8: Which singer and band is you are listening to these days?

Victoria: I like listening to lots of different artists and bands. Some of my fav summer tracks right now are "All of Me" by John Legend,"Latch" but Disclosure and "Maps" by Maroon 5

MissO9: Which song is your favorite from Accelerate"?

Victoria: That's a tough one! I feel very connected to all of my songs on my album. Three that stand out to me, though, are That Somethin, Holographic, and Hate To Say It.

MissO10: How the album is different from "Shut Up And Dance"?

Victoria: "Accelerate" is more mature, more diverse, and more personal than "Shut Up and Dance." I was able to reflect on a lot more personal experiences in the making of this album and ended up with a variety of music that ties together with the right balance of fun, emotion, and edginess.

MissO11: Should fans expect your appearance in any TV show?

Victoria: I haven't had the chance to do any film or tv work over the past year because I've been so focussed on the album. However, it is definitely something that I'd like to do more of in the future!

MissO12: Acting or singing. Which do you like best?

Victoria: That's impossible to answer! Haha. That's like asking do I like eating or sleeping better. I love both and have such a passion for having both a part of my life.

MissO13: Any fun fact fans must not be aware of about you.

Victoria: Some fun facts about me are that I can walk on my hands, I used to play volleyball, and I have two brothers who are actors.

MissO14: Which summer trend are you loving right now?

Victoria: I'm loving the crop top and fringe trends. I recently got a sheer cardigan with fringe on it that's perfect for summer!

MissO15: Fondest childhood memory.

Victoria: When I was growing up my mom used to organize amazing themed birthday parties for me. They were so much fun, and she sure put a lot of time into each and every one of the parties to make them special and memorable.

MissO16: Most famous person in your contact list?

Victoria: I've been lucky to meet so many great people in the music and film industry. Those secrets are safe with me!

MissO17: Best way to wind up after a long day?

Victoria: I love throwing on a pair of sweatpants and relaxing on the couch with a bowl of popcorn and watching a girly movie.

MissO18: Message to the fans.

Victoria: I want to say a sincere thank you to all of my amazing and devoted fans for all their outstanding support and love. I feel so lucky to have such incredible fans, and I can't wait to connect with lots of you at upcoming shows!!

MissO19: Message to the aspiring singers.

Victoria: My advice to aspiring singers out there is to work hard, take advantage of any opportunity you get to improve and practice your craft, and to never give up. You don't know what tomorrow is gonna bring, so you gotta be ready and go for it!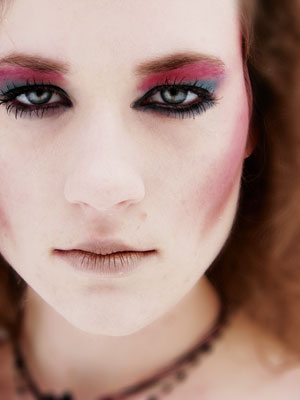 © Elizabeth H., San Bernardino, CA