Vanity Fair Editor Jane Sarkin
MAG
My school newspaper just did an alumni issue for which we interviewed successful or famous alumni. I interviewed Jane Sarkin, the features editor of Vanity Fair magazine and found her quite fascinating.


What activities did you do at our school?

We had the first women's soccer team. I played tennis and field hockey, but I liked soccer best. I wrote a bit for The Record. I sang in choir. I remember we did "Bye, Bye Birdie, " which was a lot of fun.


How did you get into journalism?

This school really got me interested in English. I loved the literature and doing papers; it was my best subject. I also loved French. The entertainment world always interested me, that'show it all happened. I did well in college because I knew how to study, take notes and write a paper. I'm really thankful for that. I believe that all my success came from this backbone of good education, which started in high school.


How did you come to work for Vanity Fair?

I worked for Andy Warhol (at his magazine Interview) for four years. This Oscar night was my 20th anniversary at Vanity Fair.


What's your favorite part of the job?

Coming up with cover ideas and then putting it all together. It's almost like producing a movie. Four months before the issue, you have to photograph and interview the person. It's a very long process, but I like it.


Is there something you are particularly interested in writing about - Hollywood, world issues, sports? Vanity Fair seems to cover it all.

My thing is really the entertainment world and Hollywood. That's so much part of the magazine. I'm very lucky, it keeps me very busy.


You get to meet all kinds of celebrities, what's that been like? Are you used to it or do you still get flustered?

I still get nervous. It's really exciting. I love that part, it's the fun part, and introducing them to my children and my family, that's fun, too.


Who are a few celebrities you've met?

My favorite is Tom Cruise, because he was really interested in my family and my children. He's making a movie about my brother Jon. I don't mind Brad Pitt and Leonardo DiCaprio . . . I have to be honest, though, Tom is my favorite.


What kind of advice would you give aspiring journalists?

Keep writing, keep interviewing. There is no boring interview; it's just the way you write the words. You can make any subject interesting; it's all in the writing.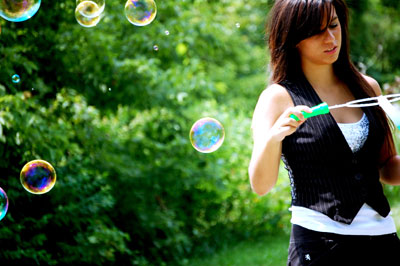 © Anonymous