Anxiety In Teens
January 23, 2020
Anxiety In Teens

Every human being has anxiety, but an anxiety disorder is when a person has unproductive anxiety. Productive anxiety is when anxiety pushes a person to work harder. Unproductive anxiety is when a person does the opposite. Their anxiety creates problems in their lives.

Anxiety is something that a lot of teens that struggle with. As a teen who has anxiety, I wanted to learn more about the anxiety levels in my peers. So, I sent out a survey to my school to learn and understand the amount of unproductive anxiety in my school. I go to a very small school for gifted learners. I sent this survey to sixty-eight different people all in the middle school age range, 12-14 years old, and received fifty responses.

The anxiety levels at my school are a little bit surprising for my age level. 81% of people who responded to the survey state that they have some sort of unproductive anxiety. All of those people say that school plays some part in the anxiety in their lives. I was not surprised by this, but also I don't think that it is a good thing that, at a middle school level, so many people are being caused anxiety from school.

I asked what my school could do to help with the anxiety levels, and I didn't get many answers, other than lowering homework. Personally, I don't think there is much that our school can do other than helping with managing anxiety levels. They can do that by helping us manage our time, and giving us tools to manage anxiety. These could be things like deep breathing and managing sleep schedules. I also asked what are things that reduce anxiety. I got a wide spread of answers consisting of, hobbies, sports, managing time, and being in social situations. I think that the staff should help students find things that reduce anxiety and allow time for those things.

Overall, I learned a lot from this survey. My school has a lot of improvement to do in terms of anxiety levels. But I think that there is definitely a way to manage it. I wonder if other schools have a similar amount of anxiety?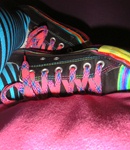 © Melanie R., Milpitas, CA