Create Your Own Path
November 5, 2015
Throughout your life, you will travel on a path and you will meet many different types of people. You will then come to the realization that there is a role for everyone you meet. Some will test you, some will love you, some will use you and some will teach you. Some are here to help you and guide you. While others, are only here to make sure that you fall and don't get back up, but they're all here for a reason may that be good or bad.

The people you meet will vary, some will be like delicate flowers, quiet forest, colorful skies, and beautiful oceans, but others will be like thunderstorms, raging oceans and lightning. These people will tackle you down, they will leave you breathless. You will also meet enchanting gardens and breathtaking sunrises. These people will take you on adventures and give you life. Go with these people, explore with them. Get lost with them. You will come across all of these people in your life sooner or later. Life is crazy. It's complicated, enchanting, stressful, beautiful and enraging all at the same time. You are on a path, not a set path, not a path created by someone else, but a path that is created entirely by you step by step. This path defines you. It's created by the choices you make and the effort you put into it. The past does not matter, because this is a path with no set destination and at any moment you are free to change direction and go a different way. Going back into your past will not help create your path, so do not look back, and keep moving on.

Now, back to all these people. Let's start off with the good news first. If you truly look hard enough, you will at least find one "delicate flower" in your life. This person will be here for you through the good and bad times. They will support your decisions right or wrong. The bad news? There is always going to be people who disguise as "the delicate flower". They don't really want to help you. They just want to hurt you. Kind of like "keep your friends close and keep your enemies closer". But once you discover someone who is willing enough to put up with you, and stick beside you, do not let them go. Loyalty is rare these days, so when you find it do not take advantage of it. It takes a lot in a person to be a "delicate flower" Like they say, most people will clap for you, until they see you doing better than themselves. So once you find this person make sure they grasp how important they mean to you. Make sure they know you are thankful for them until it's too late, make sure you do this before they're gone, there are only so many in this world.

They say we do not meet people on accident. They are meant to cross your path for a reason, good or bad. The bad being the storms of your life. These people are cruel. May it be jealously, regret, or sorrow that they thrive off of? Sometimes we never find out. Those are the times where you just have to accept that they are there for a reason. It will not be easy. Some people are just pretending to help you. They are only out there to destroy you, but do not let that trip you up. They will try to throw you off your path, and lead you into ones that are not fit for you. Sometimes, the bad things that happen in our lives put us directly on the path to the best things that will ever happen to us. Don't let them persuade you. Storms don't last forever, sooner or later they will pass by. It just depends on how much courage you have to withstand the winds.

Then you ask yourself if it's possible to go through life without these storms? It is possible, but remember stars cannot shine without darkness. If you find a path with no obstacles, it probably does not lead anywhere. It's okay to mess up, mistakes need not be fatal. If you look behind you and don't like what you see, and then you look in front of you and you don't like what you see, then you need to change direction. Some people will throw stones in your path, and it depends on what you do with those stones that make the difference. So, life's a path with a destination unknown to us. May your path be curvy or straight, short or long, happy or sad, just make sure it's YOUR path. Sidewalk, road, wall or bridge, remember you are the architect of your own life.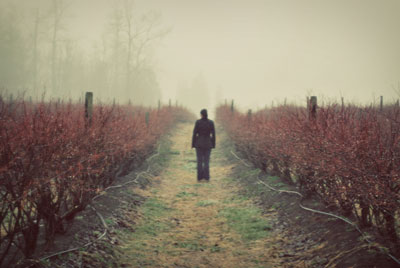 © Molly H., Lynden, WA