Mom Can't See Me!
May 11, 2015
              Doctor said, "Only one life can be saved, either mother or the child". Husband replied in grief, "Save my wife doctor, save my wife!" After 5 hours of tough operation luckily both the mother and the child were saved with the Almighty's grace and with the blessings of loved ones and well-wishers. Yes, that was me and my beloved mother.
         The moment I took my first breath I was found hospitalized in the glass box called as incubator. I couldn't feel the warmth of my mother's gentle arms but the warmth of that glass rectangular box. As soon as my mother came into senses again the very first question she asked was, "Doctor, is my baby able to see this colourful world?" Doctor said, "Yes, your baby can see everything. You have given birth to a cute little girl with big button eyes". My mother was extremely happy. She was thanking enough to god for this priceless gift with tears of happiness in her eyes. Her family was complete now.
           My dear friends, this is a story I often hear from my relatives and cousins. I am a single child of my beloved parents, an apple of their eye. My mother grew up in a lower middle class family facing numerous difficulties but still was the heart of her affectionate family. Being a scholar from the childhood itself she became one of the most prominent lady in her field. She felt extremely happy, delighted and blessed after getting married with the love of her life (My Father). Like every other, this visually impaired couple also wished to become parents and my mother gave birth to me after facing so many difficulties. Being a daughter I am more attached with my father but with silent expressions whereas my mother is a very open-hearted person who constantly showers me with hugs and kisses no matter the occasion.
          One morning when I came home from my coaching classes, I heard my mother reciting her delivery episode to her friend and saying, "I have lost almost everything at the time of my delivery but the best of all I have received is a beautiful rose named, Madhura". These words of her made my heart weep excessively. I felt divinely blessed in her motherly wings of love and care as she chooses to raise me by sacrificing the happiness of her life. It was not only difficult but also nearly impossible for her to raise me like a normal child. But she left her lectureship so that she can pay full attention towards me. In spite of her blindness she gave me life, nurtured me, taught me, dressed me, fought for me, held me, shouted at me, kissed me and loved me nine months more than others in her own unique way. My upbringing had become an example for many others in the society. As always she won her own race and had became a sparkling star once again.
            Whenever I stand in front of the mirror getting ready for any occasion she compliments me by saying, "My girl is looking fabulous" trying to make me feel like a normal child and I smile and say, "Yes mother I am just the reflection of your beauty".
           My mother is my greatest teacher, a teacher of compassion, love and fearlessness. If love is sweet as flower, then my mother is that sweet flower of love. I believe that in the heavens above, the angels must be whispering to one another that there is no such divine and devotional as that of 'MOTHER'. Father is the heart and soul of a daughter while mother is the rhythm in it and if the rhythm (heartbeats) stops everything comes to an end. The rhythm in my heart is an extraordinary chanting, 'MOM CANT SEE ME' but 'SHE SEES ME' in her unique way!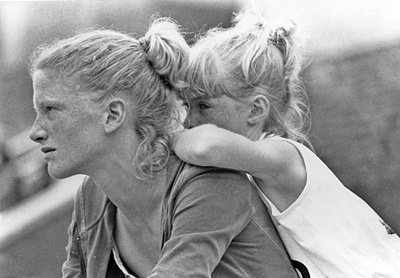 © Felicia F, Marlow, OK