120 Minutes
MAG
"Do you swear your testimony to be the truth, the whole truth and nothing but the truth, so help you God?" Senator Shelby asked, his voice conveying a message that was not to be misunderstood: this was the real thing. My father's "I do" matched Senator Shelby's grave tone, and all who heard him speak immediately realized that he was not there to leave empty-handed.

And that's how the two most anxious hours of my life began. My father was in the Capitol being questioned for the position of Assistant Secretary to the Treasury for Financial Institutions. I could tell you what this means, but then I would have to kill you. Just kidding.

For the next 120 minutes, my father answered questions I thought were in a foreign language. I have, however, translated a few: "Do you think there is enough capital in the markets to take up the credits that would be reduced by any reform legislation?" "What are your plans as Assistant Secretary to ensure the safety of our financial institutions?" "Would you focus on the larger or the smaller banks of our nation, and what is your reasoning?"

With every minute that passed, the room got warmer and what had seemed a comfortable chair transformed into an itchy, bumpy, scratchy thing that wouldn't tolerate any movement on my part. With every answer my father gave, my grandmother's hand gripped my aching wrist tighter.

Did he answer the questions right? Why is that one Senator shaking his head? Is he even speaking English? Why are these lights all pointed at my father - he must be dying! Is he out of water already? My mind was racing. Fortunately, my grandmother occasionally leaned over and translated what was happening.

If confirmed, my father would work to create policies for every financial institution in the United States of America. I am sure that you do not need me to tell you that this job is no walk in the park, so to speak. If my father makes a mistake, every bank, as well as the economy, would suffer. Any mistakes he makes would not be forgotten in a week, month, or even a year. They would live and breathe as if independent organisms, and haunt him and his career, until he remedied them.

Not only would my father be under pressure, but so would my family. My father, whom I am used to seeing every day, would work in Washington. I know how much this means to him, so I guess I could survive his empty chair at our dinner table, go without our nightly conversations on life and the jokes I've heard him tell a thousand times, and believe his promise that he will be home soon. I hope we both make it through. "Don't worry about me," he keeps saying. But I do.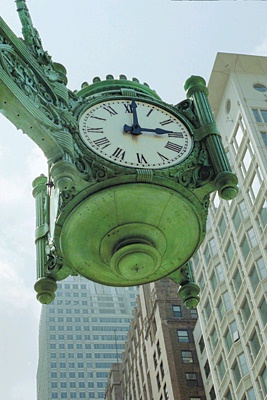 © Anonymous