Moments of the Past
MAG
I lie on my floor, scissors and glue close by. Hundreds of pictures are scattered around me, each telling its own story. Some pictures are of me, but most are of my grandparents or siblings. I analyze them and finally decide just what I want to do, for the art of scrapbooking is a very delicate one. Each step is important, and the job cannot be rushed; if it is done right, people will look at it and feel that they, too, experienced that moment.

I don't know how my love for scrapbooking began, but I do know that it's a true love, and that it brings deeper meaning to moments of the past. Many people wonder where I find the time to sort and fix my books, but to me it is not a matter of time, it is a matter of devotion. I actually do not have a lot of time, with school, theater, and family, but when I do, I don't take it for granted. A scrapbooker's job is never done.

My sister's fifteenth birthday was approaching, and I was puzzled by what to give her. Then an idea struck - why not use my talents to help her remember the past? I talked to my mom, who thought it was a great idea, and so I began the long process of gathering pictures of our family. Then I eagerly got to work. As I was contemplating the layout, I realized how precious these pictures were. Here was my grandmother, now in her 70s, posing at 17 in a swimsuit with a smile that could kill. I saw my mother in her high school photo, beautiful and worry-free. I was not there during those moments, but through these pictures I could almost know their thoughts. It was my job to preserve these pictures so that my children and grandchildren could look back at their family members and see how their lives were.

My sister's book grew, with pictures from birth up, and I could see how much she had changed. I was overflowing with memories of our childhood. The job took most of my summer, but when it was done, I knew that it would be a great gift, for I had followed the number one scrapbookers' rule: I gave my full heart to the preservation and presentation of the past.

On my sister's birthday, I handed her the gift. When she opened it, her eyes lit up, filling the room with warmth. She was ecstatic, and dove into the contents. Moments she had forgotten from her childhood were re- lived, and she saw how our grandmother and mother looked long ago. My job was complete - I had brought happiness and joy through the art of scrapbooking. I ensured that moments of the past could be relived through pictures.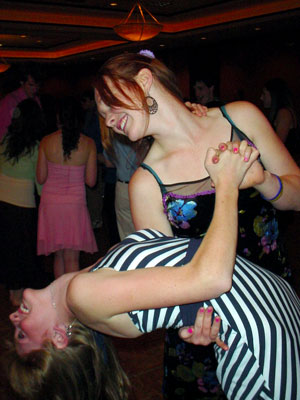 © Anonymous