David Baldacci
January 20, 2014
Out of the 27 novels David Baldacci has written so far, all of them have been national and international bestsellers. The genre of novels Baldacci writes includes children's and young adult's fiction, but he specializes in writing novels having to do with secret agents and the FBI/CIA, also known as crime and thriller novels. David Baldacci's career as an author has been successful, and his work allows people around the world to step into the life of a secret agent.

David Baldacci was born on August 5th, 1960 in Richmond, Virginia. As a child, Baldacci was very creative. One day his mother gave him a notebook, in which he wrote down all sorts of ideas for stories and novels. He often wrote short stories in his spare time. When he grew up, he attended Virginia Commonwealth University, where he received his Bachelor's degree in political science. He later received a degree in law from the University Of Virginia School Of Law, which led him to go practice law in Washington D.C. for nine years. (davidbaldacci.com)
David first met Michelle Collin, his future wife, in 1988. They met at a vegetarian barbecue, though neither of them was vegetarian.
Immediately, Baldacci fell in love. However, Michelle showed no interest in him. She had been surrounded by lawyers for her entire life, so she found nothing different or special about Baldacci. She even insulted him on several occasions, which caused Baldacci to try even harder. One day, Baldacci finally had the courage to ask her out on a date. The day of the date, he brought in 10 different neckties to work and asked one of his female coworkers to pick out which one looked best. At the date, David and Michelle found out that they had much in common. They both had a similar sense of humor, and both of their parents were very hard-working. They were married in 1990, and had two children, a daughter named Spencer and a son named Collin. They also have two dogs, Guinness and Finnegan. (independent.ie)
David Baldacci first became a published author in 1994 at age 34 years old. Before this he had written short stories and screenplays, none of which sold very well. His first novel was called Absolute Power. It is about a burglar, who is trapped inside a building that he is trying to steal from, where he witnesses the President of the United States and some Secret Service agents brutally abusing a woman. Luther Whitney, the main character, then struggles to find a way to let everyone else know of this crime committed by the seemingly charming President. Absolute Power took Baldacci three years to write and two years to publish. When it finally hit the shelves, it was an international best-seller. It was such a popular book that it was adapted into a film version, also called Absolute Power. Directed by Clint Eastwood, who also starred as Luther Whitney, the movie received average ratings, with a 6.6/10 from IMDb and a 5.5/10 from Rotten Tomatoes. Nevertheless, David and Michelle were overjoyed at the book's success, so Baldacci continued to write more and more novels. (imdb.com, rottentomatoes.com, davidbaldacci.com)

Baldacci also had one of his latest novels, Wish You Well, turned into a movie. The novel Wish You Well is about a girl named and Lou and her little brother Oz who have to move to the mountains when tragedy strikes in their home of New York City. But when a dark force starts to terrorize their mountain home, Lou's struggle with this force will be taken to the courtroom, where the future of her, her family, and the entire town is decided. Receiving a rating of 7.3/10 stars, there have been few reviews of the movie, as it came out just recently and did not get much publicity. (imdb.com, davidbaldacci.com)

While Baldacci writes novels with many different protagonists, he has 7 main protagonists that he often writes with. His first lead protagonists were Sean King and Michelle Maxwell, who first appeared together in the book Split Second, published on January 1st, 2001. Split Second tells the story of two Secret Service workers working in different parts of the country, both of which let their guard down for a millisecond too long, resulting in two people (not King and Maxwell) being killed and both of them being fired. They then find out the shocking truth that the murders had been planned for years, and that there are more murders to come. Other books starring King and Maxwell include Simple Genius, The Sixth Man, and King & Maxwell. Baldacci's next main protagonist, Oliver Stone, first appeared in The Camel Club, published in 2005. The Camel Club studies conspiracy theories and how the government works in order to understand what the government really is up to. But when a surprising murder occurs, The Camel Club must join forces with a Secret Service agent in order to confront this event that may trigger the largest war America has ever witnessed. Other books starring The Camel Club and Oliver Stone include The Collectors, Stone Cold, and Divine Justice. Baldacci's next protagonists were Katie James and Shaw, who first appeared in The Whole Truth, published in April 2008. Their mission is to stop Nicholas Creel, a devious and clever mastermind, before he causes a catastrophic conflict between nations. Shaw comes back in Deliver Us From Evil. First appearing in the novel Zero Day, published in 2011, John Puller is an experienced military soldier and investigator. When he goes to a coal town in West Virginia to investigate the murder of an entire family, he realizes that not everything he has seen in this town truly is what it is. John Puller is seen again in The Forgotten. David Baldacci's most recent protagonist, Will Robie, first appears in The Innocent, published on April 1st, 2012. Will Robie is an experienced, stone-cold hitman, but when he views his next assignment, he does the absolute impossible. He refuses to kill the man. He is then chased down by his own agency, causing him to flee into hiding to find out what went wrong with his assignment. But when he stumbles along a fourteen-year-old girl and learns of her past, he makes an impossible connection between the murder of her parents and his own assignment. Will Robie comes back in The Hit. (davidbaldacci.com)

Some of Baldacci's characters have been turned into TV show stars. Sean King and Michelle Maxwell had a 10-episode series produced by CBS Television Studios. Starring Jon Tenney and Rebecca Romijn as King and Maxwell, it premiered in 2013 under the title of King & Maxwell. Receiving a 7.2/10 stars on IMDb, the show had a short success, with most saying that it was a good show but was "weakly executed" (IMDb.com).Some people also said that the plot in the TV series was slightly different from the books, and that the episodes were too short to contain all of the drama and action that the book series had. (usatoday.com, imdb.com)

While David Baldacci is a successful author, he is also involved in several charity organizations. David Baldacci and his wife Michelle started the Wish You Well Foundation, an organization founded to combat illiteracy in the United States. The Wish You Well Foundation funds literacy programs in over 40 states and recycles new and slightly used books to those who do not have any. In 2008, the Wish You Well Foundation partnered with Feeding America to create Feeding Body & Mind, an organization dedicated to linking the problems of poverty, hunger, and illiteracy into a single problem to be solved by Feeding Body & Mind. (wishyouwellfoundation.org)

Nearly all of Baldacci's books are similar in setting, theme, and style. Born in Richmond, Virginia, moving to Washington D.C. for a job, and then moving back into Virginia to write novels, Baldacci puts all of his characters in a setting that he knows well: Virginia. His books often have the characters journey to real-life landmarks, including the Chesapeake Bay Bridge-Tunnel, the Chesapeake Bay, Hampton, the Appalachian Mountains, and the White House. Not only do the characters journey to these landmarks, but they also interact with the ones that Baldacci knows the details of.

Baldacci's novels generally have a similar theme, usually something along the lines of "secrecy", where the protagonist is some kind of secret agent that must complete his or her mission without anyone noticing. Besides his children's books, all of Baldacci's novels have this theme.
Baldacci's style is very unique, having a certain characteristic that really defines his characters. His style of writing in most of his novels creates harsh, unfeeling characters that cause the reader to be shocked that someone could actually have such little emotion. Baldacci uses short, choppy sentences to emphasize the characters' determination and courage to complete their assignments at whatever costs. Even his more sweet and innocent books, such as Wish You Well, still have an element of tragedy and unfairness.
Baldacci has won many awards and received much praise for his novels. His first novel, Absolute Power, received the Gold Medal Award from the Southern Writer's Guild, Britain's W. H. Smith's Thumping Good Read Award, and People Magazine's "Page Turner of the Week". Most recently, he was inducted into the International Crime Writing Hall of Fame and received the Barnes & Noble Writers for Writers Award. (famousauthors.org)

Baldacci's Absolute Power received much praise, which really kick-started his career as a writer. "Accomplished and amazing--one of the hottest reads around" (Daily Mail), it caused Baldacci to really want to write more crime and thriller novels that could be just as great as Absolute Power. Some of these books turned out to be just as great as he wanted. The Innocent was very successful, with people stating that they "regret not having read anything by him (Baldacci) before" and that it is an "immensely thrilling read" (Goodreads.com). Some of his books, such as Split Second, received mixed reviews from people, with some saying that it is "A good quick read by a very talented storyteller" while others argued that it is "not just bad, it's boring" (Goodreads.com). And then there were the others, like True Blue, which received numerous bad ratings, saying things like "The characters are unbelievable and the plot even more so" and that some people were "terribly disappointed in his latest work" (Goodreads.com).

Although he has received many reviews from the public, many of which just happen to be Baldacci fans, he has also received good reviews from actual book critics. One of Baldacci's latest novels, The Hit, was praised by many famous newspapers, including the Washington Post, which said "What makes The Hit live up to its title is the payoff at the novel's end" (Washington Post on The Hit). The Forgotten also got reviews from the Washington Post as well as several other book critics, including Examiner.com, which said that The Forgotten is "Another fast paced page turner that will keep you glued to the couch…" and describing David Baldacci as "an author who continues to stand out in the increasingly crowded thriller field" (Examiner.com on The Forgotten). Hell's Corner got mixed reviews with Publishers Weekly saying that "Those who prefer intelligence in their political thrillers will have to look elsewhere" (Publishers Weekly on Hell's Corner), while Kirkus Reviews told people to "Strap on your Glock. Grab an extra magazine of shells. There's danger and excitement lurking around this Corner" (Kirkus Reviews on Hell's Corner). Very few of Baldacci's books have been considered "bad" or "poorly written" by a large number of reviewers.

David Baldacci has a very positive influence on the literary world. As a relatively unknown author, he shows other lesser known authors that they can have tons of success, as long as they try hard enough. After all, Baldacci has had success in all kinds of media, from books to TV series to even movies. Not only this, but Baldacci also shows that being an author isn't just about writing books. With his involvement in multiple charity organizations, Baldacci not only has a positive influence on the literary world, but he also has a positive influence on the world itself.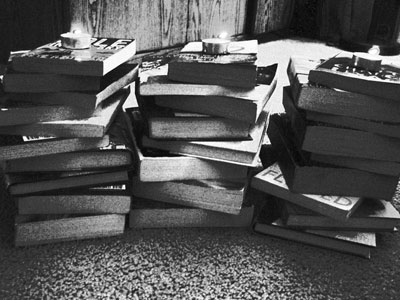 © Alexis R., Clarkdale, AZ