Voice of Democracy Essay 2012
February 24, 2013
Every year on the Fourth of July, as dusk descends, my block gathers on the corner of Hanchett and Tillman. We unpack folding chairs. We sit down, and we wait. We wait until its dark, eyeing the sky—then a collective exclamation, and the fireworks have started. They come up slowly first and then faster, now more chaotic, only to gradually dwindle out and leave us waiting once more. We gather up and return to our houses across the street, every once in a while still hearing a distant fizz in the night.

Unfortunately, city budget cuts a number of years ago meant that there were no longer any fireworks to watch. The first year this happened—I believe I was about ten years old—I felt almost deprived, and, oddly sad to see our annual tradition go, I decided that Fourth of July was no fun without fireworks. I stared out my window that evening in disappointment. And it was then that my ten year old self had what you might call an epiphany—Fourth of July was never about the fireworks. I suddenly grasped what I had not all those years, flooded with an abrupt gratitude for simply being American, for being able to sit here safely without fear of my rights ever being taken away. This sudden gratitude for the securities I take for granted is something I owe to all those who have served in our military, who have served and are serving right now to protect us. I cannot imagine anything more selfless than leaving home behind to risk your life for the country you love. There is incredible pride in serving in our military, and to the millions who have, I have something to say: a few years ago, a ten year old girl realized there is something strikingly precious in going to bed at night without worry for her safety. This, I will never forget.

Those who serve in our military should be proud because they work every day to ensure our country's safety. They should be proud, because they have dedicated themselves to a cause for the good of many. They should be proud because they do not just serve under the banner of America, but under a banner of freedom as well, for they have come to the aid of freedom around the globe. Seventy years ago, our armed forces joined World War II to fight against genocide and the Nazi regime; today, they aid the revolution in Libya. I ask you, how can there not be pride in the story of each man and woman who goes to fight? How can there not be pride in the story of Captain Juan Guererro, who lost his right leg to an explosion under his Humvee, but is working through recovery to one day return? How can I not hear the pride that slips into my grandfather's voice when he recounts his time as Navy Seabee? How can there not be pride in the story of Dakota Meyer, who rushed into dangerous territory to evacuate wounded and save his four missing companions, only to discover they had died fighting? Meyer was awarded the Medal of Honor just this September, credited with saving the lives of thirty-six fellow Marines.

And yet, as he tells it, he isn't a hero. He's doing his job.

He's twenty three.

As I look at Meyer's small picture next to his article in the news, I can finally put my finger on why I found the photo vaguely surprising. Glancing at Meyer's photo, you wouldn't think that he had rushed into the line of fire to save his friends, but he did. You wouldn't think that he was the only living Marine to receive the Medal of Honor for service in Iraq and Afghanistan, but he is. And this is the true heroism of the men and women who are serving in our military at this very moment. They are the people who lived two houses down, ordinary people striving to do extraordinary things—and what could be more earnest, more heroic than that?

But Dakota Meyer is just one. He is only one of millions who have served and are serving as I speak, but most of these men and women will never be given awards for the extraordinary things they do every day. Often on the radio we are told faceless numbers: five wounded in Afghanistan. Four dead in Iraq. The news inevitably moves on to weather and traffic, and we are left to ponder, for just a brief minute, all the things we will never know. We will never know their names, or what town they came from, or what exactly it meant to each of them to serve. What would they say, if they knew when they laced up their boots at camp that day that they wouldn't wear them back? We can only hope that, some time in their last hours, minutes, seconds, they were able to take pride in all they had sacrificed. Many of them cannot be here to say it for themselves, so we must say it for them: They were my son, daughter, sister, brother, mother, father, family, friend. They went into harm's way for something bigger than themselves; they served, and they should be proud.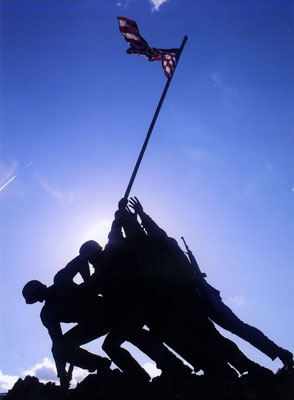 © James M., Glendale, AZ