A (Disney) World Away
July 16, 2008
My favorite Disney princess was Mulan. It wasn't just because of her tomboy attitude and courage, it was because I loved that Asian culture in the movie. While all the other white preschoolers my age loved the fancy, poofy, European hoop skirt kind of dresses that Cinderella wore, I was imagining myself in those beautiful silk cheongsams amidst Chinese dragons and firecrackers. Things were simpler back then. I liked Mulan and everybody else liked other princesses.

As I grew older, I made more friends, Caucasian friends, Asian friends, and friends of other races, too. I didn't choose one over the other, just like I tried not to with my parents. My dad is white, my mom is from Vietnam, and my step dad is a second generation Chinese. Even when I was little, I was raised with an Asian influence. Although I preferred hot dogs to egg rolls, I loved to accompany my mom to the Korean supermarket. That's where we could buy the real fresh mango, the Yan-Yan snacks, and the jasmine rice my mom makes for me everyday.

I've tried very hard to keep my Asian influence alive. I learned to spot the difference from the real Chinese restaurants and the Americanized ones. At school, I studied Vietnamese New Year, Thet, and wrote a story from the point of view of chopsticks, struggling in a world of forks.

My mom reminds me everyday in everyway, that when she was my age she was just moving to America. America is my home, but not my only heritage. I am half white and half Asian. Some days, I wish I was one or the other, but according to my mom, it makes me look exotic. I think of it differently. It's these two identities, like Mulan's two identities, that make me just one of the many people bridging the gap between both worlds.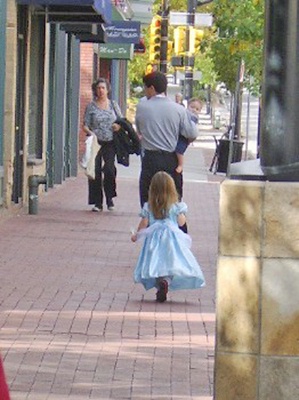 © Kristen T., Tulsa, OK