Karli
April 12, 2012
Once, I saw Katie drawing your name in our Spanish Packet. I smiled and asked whose name she was writing. She looked up at me, startled. She told me you were an old friend. I thought nothing of it. That is, until the next day. I can't even remember what movie we were talking but all of sudden she says your name. "Karli and I used to get into movies for free. She had cancer so we got front row seats and free popcorn." Katie's smiling at the memory. But I'm taken aback. Cancer? Like the terrible thing that made me shave my head? The thing that's killing my Grandmother? So I ask her, "Cancer?" Katie nods and goes back to the math homework. I'm surprised and then it clicks. Old friend, cancer, that sort of happy sort of sad smile. No...I refuse to believe it.
So for the next month I ignore it and you are never brought up. But slowly something is creeping into my mind. The day, sixth grade, she said it. "Karli passed away from cancer." No...I'm still refusing.

And sometimes I still hate myself for this. Me freaking out because she lost her very best friend to cancer, It's selfish. Why am I having such a terrible time with this? Katie seems happy. Oh, Karli, I'm so sorry. I want to hug her for you. I want to tell her it's okay. But it will make it awkward. She seems happy. Why should I ruin that? Because, It would make me feel better that when my Grandma leaves me, I know that I can move on. Karli, you aren't reading this, I know because we have never meet. Oh but Karli, she still loves you, and she misses you. Katie and Karli. This one is for you.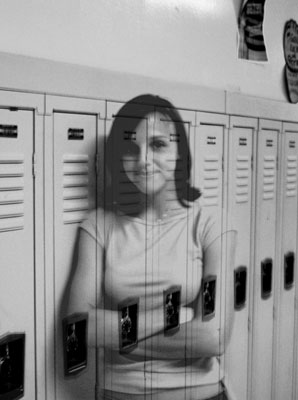 © Amy D., Troy, OH