Savior
March 28, 2012
The sun is setting just above the hilltops. Rays of orange, pink, and light lavender spread across the sky. A crowd of people gathers, feet shuffling over small pebbles. Huge dents in the ground are being filled in by soldiers carrying big wooden structures. Rocks are placed around the bottom to keep them balanced.
The soldiers move around slowly and uncomfortably in their armor, like robots with not enough lubricants in the joints. They are covered with silver breast plates, helmets, and red capes signifying the Romans authority and government. The soldiers, with faces that show pain and sweat, heave these structures with a struggle, then……. silence. The crowd that gathers stops, watches, and waits, waits like a lion about to pounce on its prey.
I don't understand what they are looking at, but their faces, their faces show expressions of mockery, hatred, and scorn. Some faces are sad and tearstained. I don't see any children, only adults standing close to each other. They wear ragged clothes and sandals with smudges of dirt on their skin. It is still silent. Then a wave of shouts breaks the silence.
I finally see what they are looking at. I stare at the bleeding face of a young man. He is hardly recognizable with blood and bruises all over his body. Such a dreadful image. He hangs there, slowly dying of suffocation, pulling on the nails that dig into his feet and wrists. Each time he pushes up for air his back gets torn by the rough wood of the cross. I stare at him; my heart breaks at each passing hour.
This man, once considered a Savior, is now hanging before us; accused of blasphemy and mocked of righteousness. I can't bear to see him like this. I slowly turn away and cry into my shoulder. My Savior is being crucified because of someone's envy and fear. I think this is unfair, but he has his reasons for allowing this. People from each side gather closer to shout, mock and tease him some more. People walk by wagging their heads and stare at him with shame. Even the two robbers crucified beside him blaspheme him.
As the hours pass by, darkness swallows the land like a fire slowly devouring a forest. He cries out twice and at that second cry he breathes his last. He hangs their, limp like prey that has just been captured by its predator. Some people stare in shock and notice that this man is the Savior, this man is Gods son. Soldiers come by eagerly to get their work done and pierce him through the side. Blood and water spills out cleansing and healing any person near by. He died but he doesn't stay dead for long. After three days he is resurrected and ascends into heaven. He sits besides his Father. He lives. This poor man beaten, mocked, and tortured was like a lamb before his slaughter, willing to die for us, willing to share Gods love to others that accept him.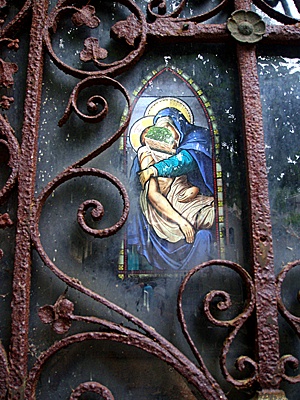 © Rebecca Y., Los Angeles, CA