Living the Lake Life
November 1, 2011
My Name


My name in Hebrew means salvation. It is the name of the second leader of the Jewish people in the Torah. Yehoshua, yes this was his name. It sounds to me like a sweet tasting river full of silvery silk flowing endlessly, smooth to the touch, creating a harmonious melody. Like a small spark that is shot into the cold night air smelling of burnt wood and spreading across every inch of the world. In English the name is Joshua, a rougher sounding version of the name. Like a river full of silk that doesn't create a harmonious melody, or a small spark that is shot into the air that doesn't spread across every inch of the world.

It is amusing that my mother and great-grandmother both found the name for me separately. I believe that this is a sign. Does that mean the name is the perfect match for me? Maybe. I think so.

Yehoshua is a role model for me. I look up to him as a great leader of the Jewish people. He was Moshe's best student. After Moshe died, Yehoshua inherited his role. In some ways I feel that I have very similar traits to yehoshua. This is because, I have very strong opinions and views on many topics, and I am very interested in politics and potential opportunities for leadership roles.

My name goes well with my last name. Joshua. It's a good Jewish name. Of course sometimes they make fun of my name. They say eye-ball-man or able-man. But that's ok with me. When I come home, I'm always Josh.

Living the Lake Life

I've been living by the lake since I was six months old. Prior to that I lived somewhere else in Brighton, and before that I wasn't born yet. I cannot complain about Lake Shore Road. I live in a three bedroom apartment with everything I need. There is a pond by the apartment. Sometimes I see people fishing there, and once in a while there is a person rowing a small boat around the pond. A general way of describing Lake Shore Road is an oasis from city life. In the winter, describing Lake Shore Road would mean describing a place which on some days is wet, gray, and dull, like an abandoned village; and on other days it's like a winter wonderland, white, cold, and happy, the pearly white snow gently falling to the ground. During the autumn, Lake Shore Road would transform into a magnificent world of majestic colors: red, yellow, orange, purple, and green leaves casting mysterious shadows over the lake. And spring, we could call the peak of the warm season. When spring arrives, the lake and the park around it are bursting with life once more. The joy of life becomes so prosperous, nature cannot resist to continue developing its products. Flowers bloom, exposing their beauty to the world. New animals are born, and old ones return, as if all the animals and plants were in hiding and suddenly were revived and decided to come out. Everything smells and looks fresh. The swans, geese, and ducks return to the lake. Everyone and everything is overcome with joy. It is as if life had reached the beginning of its cycle once more. And in the summer, I, truth be told, am not near the lake as much. I am usually away on a trip or in camp. But when I am on Lake Shore Road, near the wonderfully beautiful lake, it has an extremely powerful effect on me: sunshine all around me, the golden warmth permeating my skin, a light and playful breeze blowing from the lake. It seems like the world is without its terrifying troubles, as if no evil is at all present on our planet. And suddenly, a leaf turns yellow.


A Community of Crazy (and Boring) People
Could I lie and tell you that I live in a neighborhood of excitement? It would be much easier to tell you what is not than it would to tell you what there is here. But people live to seek challenges. And so you will read more of what is and less of what is not on Lake Shore Road, a community that lives by the lake. Am I not exempt from telling you about the crazy happenings that do go on at Lake Shore Road? A writer is not exempt from describing a single detail, and this is the harsh reality. I listen to the nutcracker often. "Why is that?" you may ask. My neighbors' daughter plays violin, (and there are four apartments in a single building) and so just as I cannot escape describing my life to you, I cannot escape listening to false notes being played. In a single sentence, this is like hearing heavenly music screeched by a cat. And from these neighbors I often notice the following: screaming (from the parents) and crying (from the children), slamming doors, and falling objects. I will leave you to make your own conclusions, if you have any. I smell smoke on occasion, from my back door. There is an old woman living on the second floor, and she has "problems with her legs" so she can't go outside to smoke, she says. We can do little, or nothing about it. Recently, we got a hole in our bathroom ceiling from some new neighbors that started renovating their apartment that's right above us. We barely got them to pay us for the damages. These past incidents are what you would call "crazy". In order to properly describe the "boring" part of my community, I will need to think and write outside of my apartment. Once in a while an elderly Chinese woman does those crazy exercises while walking. I'm guessing she brought it back from her original country. A grandmother pushes a baby carriage. An old man walks his dog. Do you see what I'm getting at? Everything is extremely plain and excruciatingly boring. On those bright summer days this gives you the impression that you are living in a serene village, calm and beautiful. In the winter it gives you the impression that no one is around and that you are alone in the bitter, harsh, cold, and white world.


My Great-grandmother Survived the Leningrad Blockade! She gave her blood to Russian Soldiers! She Raised her Son Alone!

She lived with hunger in a war-torn country. Does anyone understand what this means? I don't. On Yom Kippur and other Jewish fasts, we barely get through the day without eating or drinking. Imagine how it would feel to not being able to have any food or drink on a plain day! My great-grandmother was left with this feeling. For over two years, food in Leningrad was scarce and my great-grandmother lived in fear, horror, and hunger. Many people did not survive such unimaginable conditions; some because of starvation and some because of disease, but not only did my great-grandmother survive, she was a nurse and gave her blood to wounded Russian soldiers to continue supporting the fight against Nazi Germany! She was and still is a strong woman, both physically and in her heart. She was and still is a hero. Many years later, when her son was born, he was still a toddler, still a child, when her husband was taken into custody and was sent to a labor camp in Siberia because of helping Jews escape the Soviet Union. She raised her son all by herself. She had no monetary support, and was not hired by anyone because of her husband's arrest. She was and still is a strong woman. She was and still is a hero. God bless her, and may she live for many more years.



Suicide by the Lake
One day, coming home from school, I heard a helicopter fly over my head. I thought this was normal since we are living in the twenty-first century. I then saw fire-trucks, ambulances, police cars, and media coming past my apartment, one after the other. It was like a never ending stream of bright red and blue, loud whining, and flashing lights. I was extremely intrigued about what this was all about. All of the emergency vehicles I saw were compressed into one relatively small space. There were "hazardous material response unit" trucks and many other response teams you wouldn't usually see. I wanted to find out what happened, and I asked one of the firefighters on the scene. I found out that a woman committed suicide by ingesting cyanide. She worked as a chemist at the Dana Farber Research Institute, so she had access to this lethal chemical. She left a suicide note. In Russian.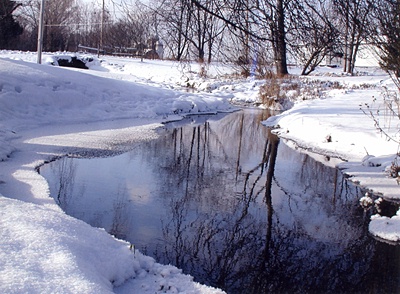 © Alex B., Rome, NY