Letters
July 15, 2011
I believe in the letters that are handwritten and signed with love. Letters hold their own and can withstand time and travel. They stay exactly the same as when they were written; their intentions are forever engraved onto the page with the ink that scrawled their words. Letters are my memories of the people who pass by and the thoughts they had to share. These are the gifts that reside in the box beneath my bed, living with concert tickets and pictures and birthday cards. They make me feel special to see that it is I who had the privilege of ripping open the envelope and reading the words that weren't meant for anyone else. It is I who saw the mistakes, the cross-outs, and knew that it was only done to make room for more important words; words that would make all the difference. The letter holds the sender's aura, his scent and meaning. Letters are the imprints that people leave behind with little pieces of their hearts stained onto the page.
When I was a freshman in high school, a letter was written in April of that year. It was an explaining letter, a final letter, a goodbye letter. In this letter remained the last contribution a cousin would to give to the world. When I think about it, the thought becomes unfathomable; how could these words be written? To even imagine the emotions surrounding that piece of paper as it was being transformed into something so culminating is still hard. I think about what that letter went through in order to arrive into the shaking hands of a mother as she read it out loud in a trembling voice to a roomful of aunts, uncles, cousins, mothers and fathers, sisters and brothers, grand and even great-grandparents. As I stood in that small and suffocating living room, I knew this was the letter that would create enormous pain yet would be read over and over and would never be thrown away. It will become wrinkled and tearstained and old but the words won't disappear. The letter is real and heartbreaking and the only thing we have left of a person we can't ever have back.
A letter is written with feeling and sealed with a kiss to be sent along an unpredictable path. I believe in these letters; the letters that hold everything. I believe in goodbye letters and hello letters and I love you letters. I believe in the laugh-making letters and the life-changing letters. I believe in the letters that make you cry and the letters you cannot let go. I believe in the true and raw letters that are completely irreplaceable.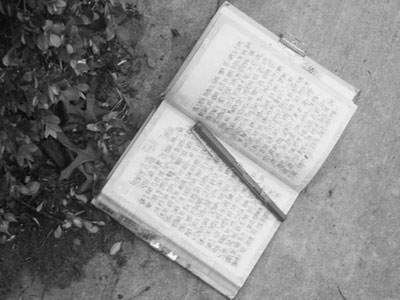 © Quinn B., Lubbock, TX