"Time"
September 7, 2010
Good days, bad days, and all days in between: these are the days that mean most to me. Time is a part of every life, taken advantage of by many, but treasured by me. I cherish the time I have. I learned at an early age that time wasn't unlimited. You could think you have all the time in the world, and then a tragedy occurs and takes it all away. I was lucky enough to have four extra years with my brother, Daniel, before he passed away. Memories of him are fading, but the pictures and videos are enough reminder of the time spent with him, however limited.

We would spend hours building makeshift tents and living in imaginary worlds. Each day was unique and exciting, as it is for all kids, I assume. I'd tell him stories made up on the spot, I'd sing to him, and I'd scare the monsters away in the night. We were inseparable.

Daniel was always excited when my brother and I would come visit him in the hospital. So much of his short life was spent confined to one room. Holidays and birthdays were celebrated while sitting in a hospital bed. Thinking back on it now, I'm surprised by how happy he was through it all. He made the most of every day.

Memories of that morning are hazy, but clear enough. My dad had found out the night before and had decided to wait till the next morning to tell my mom, my brother and I. I was asleep on the couch in a room just down the hall from Daniels. He came in and told us that Jesus was taking Daniel to heaven. However, I wasn't sad. I was happy for him. He was going home.

Later in the day, my family gathered into Daniels room to say goodbye. My older brother, Brian, and I took turns lying next to him. I spent the most time there, holding him, trying to comfort him. The next part of my story may seem silly, but it's probably my biggest regret. As I lay with Daniel from early to late morning, I realized that the nurses had brought food in. I got up, expecting to return quickly, to grab a bag of chips. I turned around only to realize that someone had taken my place. I had lost time with him for a silly bag of chips.

As time moved by and days passed in a blur, I learned to appreciate what God had given me: time with the people I love. To this day, spending time with family and friends never fails to put a smile on my face. I absolutely love it. There is nothing more precious to me than time.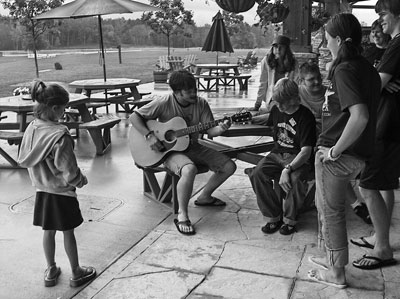 © Sean C., Princeton, IL