Write
June 9, 2010
My pencil leaves a trail of ebony as I write, I focus on only the words that take form. The thoughts come to me so fast, I miss some words. The story in my head comes through effortlessly, and I grip the pencil tight. The characters go places, and say things I want them to. Everything is in my control. The way they act, the way they are, everything. My hand cramps, but I keep moving it as fast as it can go. Though handwriting terrible, and many spelling errors, the story comes through.


Suddenly, it stops. I don't know what to write. They're whole universe stops while I wait. I wait for an idea, inspiration, anything! I massage my hand cramp while I look around for something. Then there it is, just outside my window are two dogs playing, not caring about the rain, and mud. They roll around, and chase after one another. I've got it. I know exactly what to write. I put the pencil back in my hand, and begin writing again.


I intertwine some of my own experiences into the story, with some endings that I wish could have happened, and it's finished. My story is done, there isn't a thing left to write. Although, now comes the part I loathe, editing, and rewriting. Editing is a part of the process, and it's needed to make the story better, not to mention correcting that awful handwriting, and terrible spelling. But you get bored of your story the fifth time you read it. By then you know it word by word, and could recite it in front of the entire class. For me, the real irony is that when Im finished with my final copy, I start a new story and the process begins yet again. But I don't mind, it is a new world to create, with new people, and new places. Exactly how I want them.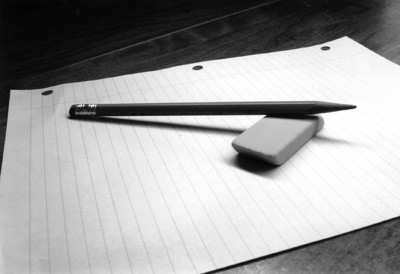 © Michael H., Mildford, CT