"What ever doesn't kill you, makes you stronger."
March 28, 2010
I guess the most amazing thing about my mom is how she became the person she is now. When I look at her, I see a mother happily settled with a family. I see through the ceases on her face, the gray hair slowely appearing on her head, and I see a role model.


My mom's story begins in Rothchild, Wisconsin. I close my eyes and suddenly I'm there, on hard bare dirt, smelling the ashy air, feeling a warm bodies behind me, and see nothing but ashes where my moms house had laid. And I see her. People say I look like my mom, and my mom swears I look almost exactly like she did when she was my age. Long brown hair, a rounded oval face with thin lips, and a big nose. Our eyes, greenish blue, starring at the ruins of her house.

When my mother was about four or five, her house was set on fire. My uncles, mom, and my grandparents lost everything; all their pictures, all their clothes, furniture, and their memories. I still remember listening to the story in my grandparent's house, on the same area their old one burned down. It was July, in the humid Wisconsin weather, the smell of peanut butter, and chocolate filled the air. I was making monster cookies with my nana, cousin, and my mom. Nana was telling the tale of the hardships of dealing through their disaster. My heart sinks when I realize that they lost everything. My Papa had lost all of his beautiful cravings, my Nana had lost all of her pictures, my Uncle Mark had lost all of his books, my Uncle Matt had lost all of his comics, my mom had lost all of her childhood toys. They shared the common lost of having no material items.

Like a tape fast-forwarding, life goes on. She tells me their new house, and getting new passions, and items. My Mom and her family built their house on top of the ruin of the old one, but her journey was just starting. When she was about twelve, she had back surgery, and was in a full body case for about eight months. She went through having all of her friends rejecting her, not wanting to hang out with a 'freak'. She dealed with looking overweight for a little more than a half year, making new friends, and starting high school. She and her best friend, Joann, created a whole new group. My mother, being a teenager, wanted to date boys, but she had older brothers. In high school, my Uncle Mark was a genius (still is), he was laid back, but my Uncle Matt was not so much laid back. He threatened any boy who even smiled at my mom. He made sure that my mother would never get hurt by a guy, let alone even have any guy friends.

Since my grandparents had three children, they couldn't afford to send any of them to college. All of my grandparent's child were/are talented; being a genius, amazing football player, and active, smart person. My mom got a scholar shop to Saint Norbert's, where she found a guy who my uncle approved of. She met this dark haired beauty while having a black eye from falling out of her bunk bed. After graduating college, my mother and her boyfriend moved to California. They moved to Santa Clara, where they would face another challenge. They lived in an apartment, and had a dog named Teraquin. My mothers boyfriend, Jim, saw that the garbage truck was picking up the garbage and ran across the street to put their can in the site of the driver. On the way back to their apartment, Jim was hit by a car. He was in agony, and couldn't move for at least two weeks. He still suffers from a bad back.

Five years later, they moved to Sebastopol California. They were married by now, and were expected a little boy. They moved to the house I currently live in, and built everything here but the actually house. They landscaped the whole yard, and built a pool. After having a bouncing little boy, my parents had a beautiful little girl with big, blue eyes. That beautiful little girl, and bouncing little boy are now teenagers. My mothers story still isn't over, she still faces the journey. Recently, one of her high school best friends died of breast cancer, leaving all of her friends, her spouse, and her boys. That tragedy changed my mom's life, she still cries over the pain of losing one of her best friends. My grandma also had breast cancer and won the battle, but was diagnosed with colon cancer. She, my mom taking after her, won the battle again.

My mom's family is doing very good, all of her siblings having children and finding their soul mates. My grandparents built a 'cabin' (more like a mansion) on a lake where they had, and still have, a cottage. My mom is married to my father, and has my brother and I. My moms life is a journey, she has a permanent map on her face showing her challenges, and her gray hairs showing her path. It constantly reminds me of the life God gave her, with all the bumps on the way. My mom did not want her children to have the same life she did; she wanted them to have an easier life that would not require difficulties, she succeeded.

My relationship has grows stronger everyday as we face the little quirks and problems. The best things to do is look past the bumps and realize what you truly admire about each other. My mom's life wasn't easy, and is never going to be, but she's ok with it. She is a perfect example to the quote "What ever does kill you, makes you stronger." My mother is a fearless, beautiful women, and I will always admire her. Ever summer I go back to my Mom's hometown, and will sit in a now different kitchen, making monster cookies with the role models of my life.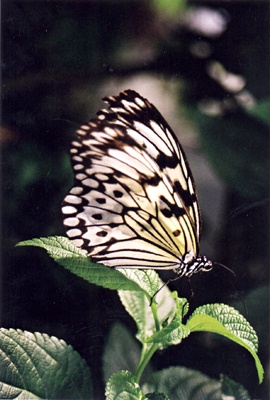 © Courtney G., Rocky Hill, CT