Running the Madhouse
March 24, 2010
When I tell people how many siblings I have, their first reaction is almost always surprise. Then they say something like, "Your mother deserves a medal," or, "How do you handle them all?" or, "Are you all related?" After I agree that my mother is wonderful, we handle them just fine, and yes, we are all related, they might say, "I feel bad for you." I usually get this from my peers – teenagers or young adults. Some lonely only children say they're envious. Everyone, though – everyone who doesn't come from a huge family – wonders how things are run in my house, which we have affectionately dubbed The Madhouse.

Well, I think it's just like every other house. Most houses have two ovens, an industrial-size fridge, sheets of plastic covering the floor of the dining room, and a table big enough for King Arthur and his crew. Right?

I bet a lot of people wake up on Saturdays to a little brother screaming wildly down the hallway at seven o'clock. I'm sure I'm not the only one who stretches out homework time just to stay in the quiet confines of my room. Does anyone else know the entire Wonder Pets song? Can anyone else change a diaper in thirty seconds or less? Who's got the hand-eye coordination to spoon-feed pureed carrots (or pureed yams, or pureed anything) to three babies at once, simultaneously keeping their grabby hands away from the bowls?

Everyone, right?

I think the best way to describe it all is like this: The Madhouse is like a city, scaled down. There's traffic – best to look both ways before crossing the kitchen. There's food distribution – get to it quickly before someone else does. There's waste management – and how! Our output of dirty diapers is incredible. If we forget to put out the garbage just once, my mother must take bags of trash to work with her every day for the following week, just to get rid of it. Along with all these is disciplinary action that seems almost arbitrary, rather like the bored cop on Highland Road who hides at the bottom of the big hill to catch my dad going 35 in a 20 mph zone.

Not everyone appreciates what it takes to keep a very large household running smoothly. I agree with those who say the mothers of such families should receive some sort of award. (I think some of the children should, too, but that's just me.) Coordinating rides to and from clubs and sports; planning a dinner that at least most of the kids will eat; making sure homework gets done and bodies get washed; moving great loads of laundry through the cycle; and providing a stimulating, enriching environment for the development of young minds is a lot to handle. Everyone has to help out somehow, and if one person decides he's had enough, the rest will have to pick up the slack.
I think this lifestyle instilled in me a good work ethic and an appreciation for teamwork. If we don't work together, nothing gets done. If we work together, life is great. It's a simple equation, but one that so many people are late to learn. Thanks to my big family and years of living in The Madhouse, I can now say I know how to run a city.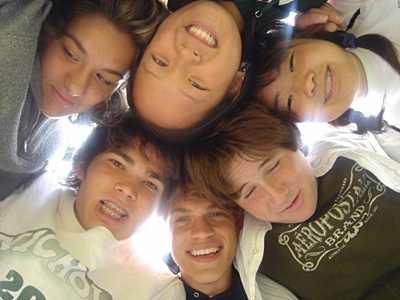 © Zhihan C., Hudson, OH