How to get over your crush/ex if he is going out with someone else.
February 21, 2010
Tips for getting over you crush when he is going out with someone else:

-This is the most obvious advice, try to forget about him. Tell yourself that he is a loser and not worthy of you. He is an idiot if he can't see how utterly fab you are!
-Be happy for the girl he is going out with. Try and get to know her and like her. You will be less likely to want to have a bitch fight with her and/or bitch about her and/or try to sabotage their relationship.
-Try to fancy someone else...
-Stop moping! Have a cry in the rain. Sing/sob your heart out to 'Your Not Sorry' eat a square of chocolate and start pretending happy (this is also a good oportunity to practice your drama skills!). If everyone else thinks you are happy someway along the line you will start believing it too!
-Take up something completly random (like finger knitting or doodling messages of peace and love on a mirror!)
-Compose songs (this works for me!)!
-Go shopping with a mate! Or do anything with your friends no boy would touch with a 10 meter stick!
-Totally and utterly ignore him!
-Learn to live again. Seriously I know what it feels like to have your heart trampled on. And I have died of embarrassment many times before.
-Glue your heart back together, with superdooper glue!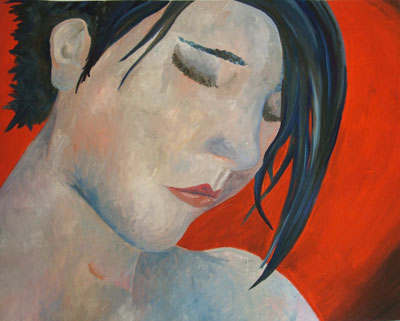 © Lindsay S., Billings, MT