Faded But Not Forgotten
April 25, 2009
I'm at my grandma's staring at the cement when my dad pulls up in the driveway. I smile because now I know he's okay. Even though it's raining, I run to his big, grey SUV. My smile fades as he rolls down his window; his eyes are red and puffy with tears spilling over. He starts to explain, and although his mouth is moving, no sound is coming out. It's like a silent movie I've seen too many times. As he explains, I look down and watch my tears drift to the newly fallen leaves.

The tears and leaves fade away and is replaced by a white door waiting to be opened. I realize it my door, and I slowly turn the knob and push the door open. I stare into a room that used to be mine, but now it is just a ruins. I know I'm there to see what can be salvaged, but the few things I pick up are soiled. When I look at my bed, I know I will never sleep in it again. I will never sit at my unorganized desk. Never again will I stand between these walls in which I had cried, laughed, and made a million memories that were all coming back now.

I begin to walk out of my room, empty handed, but I stop when I catch a glimpse of myself in the full-length mirror. I stop to study my face, red and puffy, just as my dad's had been. I hear a huge bang.

Suddenly, I'm in complete darkness, and there is a pain in my side. I look up at my bed, then at the clock, which reads 3:21 A.M. It's just another nightmare. I still cry today when I think back to the events of having to leaves my friends, my school, and my home behind. Although I know the tragedy is in the past, it lives on forever in memory and especially nightmare. The events of Hurricane Rita will never be forgotten.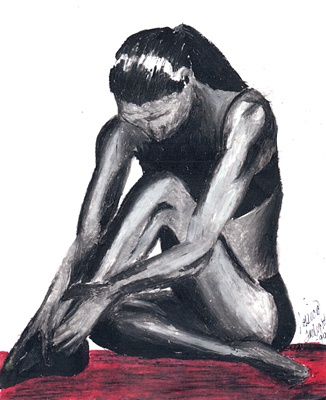 © Jessie Y., Ahwahnee, CA