"The War to End All Wars"-Canada During WWII
February 10, 2012
John McCrae served from Canada during WWI wrote a poem in 1915 called "In Flanders Fields". It was a famous piece that was about The Great War (which went from 1914 to 1918) from the perspective of a soldier.
In Flanders Fields
"In Flanders fields the poppies blow
Between the crosses, row on row,
That mark our place; and in the sky
The larks, still bravely singing, fly
Scarce heard amid the guns below.
We are the Dead. Short days ago
We lived, felt dawn, saw sunset glow,
Loved and were loved, and now we lie
In Flanders fields.
Take up our quarrel with the foe:
To you from failing hands we throw
The torch; be yours to hold it high.
If ye break faith with us who die
We shall not sleep, though poppies grow
In Flanders fields."

In Canada 35,666 people died in action during The Great War, 12,420 people died of wounds, 5,405 of illness, 4,617 were presumed dead, 2,221 died in Canada during. Also, 425 were missing in action. 3,575 were prisoners of war, and 418,000 served over seas. 172,000 were wounded, 595,000 were enlisted and the total number of deaths was 60,383 people.

The Great War is also known as WWI, and also The War to End All Wars. It started in August of 1914, when chaos rung through out Europe, Canada answered the call and rushed to Brittan's side to help defend against Germany in combat. In Europe, countries were coming together for the "Triple Entente" (which included France, United Kingdom and Russia) as well as the "Triple Alliance" (which included Germany, Austria-Hungary and Italy). More than 25 countries were pulled into combat during the war (including the U.S.) At the time Canada only had a population of around 8 million. Around 595,000 enlisted of that 8 million to defend their country as well as their mother countries and brethren. As well as Newfoundland, that had about 8,500 people serving (though it didn't become a part of Canada until the 1940's.)

Before WWI, Canada didn't have many military resources, but when the news called out about the country's decision to plunge into action, the numbers of men and woman enlisted burst and shot up.

The Victoria Cross was established by Queen Victoria in 1856 as a decoration for exceptional bravery in the presence of the enemy. It was the highest award for bravery a soldier could attain. About 50 Canadian soldiers were awarded The Victoria Cross during The War to End All Wars. Another title that is now well known is Ace: a name given to Aviation Pilots as a status for pilots with five or so victories. The term "ACES" was first used by France and was soon followed by other nations like Canada. Soldiers who were awarded The Victoria Cross and the title of "Ace" were known as heroes through out Canada and many other countries.

More than 3,000 nurses served in the Canadian Army Medical Corps, including 2,504 overseas. They helped the wounded and the fallen, in some ways more than others, they were just as important as the soldiers fighting. They worked on the field to infirmaries in different countries and war zones. They also helped the wounded when they returned home. They had the nickname of "Bluebirds" because of the color of their uniform.

During WWI, about 9 million people died from results of illness, injury and wounds as well as in combat from over 256 different countries. There is an estimate that around 20 million civilians died of the brutal war as well, leaving many people in shock of their lost family, friends and neighbors.

The war all started by the assassination of Austrian Archduke Franz Ferdinand in June 1914, which set off a chain of events that led to war in early August 1914. Also, the same year, Canada passed the War Measures Act to provide the government with new and intrusive powers to help with the war. These powers included censorship, the right to detain and arrest Canadians, and the right to take control over any property that they wish.

In April of 1915, the country's first major battle, the outnumbered Canadian Division faced the first use of chlorine gas as a battlefield tactic. A third of the force, or about 6,000 soldiers, were killed, wounded, or captured, but the Canadians kept the Germans from breaking through. Then, July of 1915, The Newfoundland Regiment went into battle at Beaumont Hamel as part of British offensive on the 1st. Because of problems and miscalculation, the Regiment attacked through uncut barbed wire against heavy machine-gun fire. Within only half an hour, 324 of its 801 soldiers were dead or missing, and another 386 were soldiers were wounded.

Canadians attacked the German-held strongpoint of Vimy Ridge, during a 3 day battle in April of 1917, and found them selves victorious. The planned with great detail and executed victory has become a post-war symbol for Canada's identity and independence. Also, in September of the same year, to prepare for an election mainly on the issue of mandatory military service, the government changed the election rules. Some Canadian women were able to vote for the first time in the country's history, while other Canadians were lost their right to vote in sweeping changes. From late October to early November, Battle of Passchendaele is remembered for its brutal fighting and terrible weather. Canadian forces captured their objective, but suffered 16,000 killed or wounded. The war had ended.

WWI helped form Canada's military and strengthen their country, though it came with a price. They showed their true colors and braced with other countries to come together and find common ground. Even know Canada is known to play a fairly good sized part in the war. The soldiers who served and gave their lives for what they loved helped shape Canada into the strong and independent nation that they have become.

Canada's main role after WWI was as peacemaker, which means they basically stay neutral during wars and prefer not to get very involved. The philosophy is that if it doesn't concern the country and that they are not in danger, then they prefer not to act. This is for the safety of the country's people and the government's position with other nations.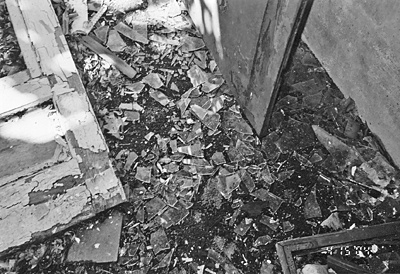 © Gary C., Pequannock, NJ