The Impact of Musical Theatre Dance
February 28, 2020
People have enjoyed watching plays for centuries, but are they anything more than a pastime? There are many stylistic features that are unique to musical theater. From The Sound of Music to Hamilton, there are different genres of musicals that speak to people in different ways. Musical theater is not only famous for its music but also for its choreography and dancing, including its richly fascinating history.
Musical theater originated in ancient Greece during the late 1500s to early 1600s (Harris). During this time period, religion dictated everyday life and because of this, their dances did as well. Musical theater dance was used to re-enact bible stories during Catholic mass as well as between acts of Shakespearean tragedies. In addition, Scottish folk dance was also very popular at the time and was incorporated into many musical theater dances.
In order to qualify as a musical theater dance, the dance must have the dancers either singing or performing dialogue while dancing (Tindle). Most musical theatre dances started when an already established dance became popular and was then incorporated into a play, becoming an official musical theater dance. As noted by Diana Harris in Beginning Musical Theatre Dance, "In the early 1900s, ragtime music, which combined European folk songs with West African drum rhythms, found its way onto the theatrical stage and the dance portions of performances began to expand." One very influential person in the ragtime dance genre was Ned Wayburn. His dances contained complex, fast steps, and he demanded musicality and smiles from his dancers. Wayburn effectively used groups of posed, still dancers, to depict scenes on the stage. He also acted as dance director for the Ziegfeld Follies, which was an annual show produced by Florenz Ziegfeld from 1916 through 1919 and again from 1922 through 1923 (Harris). When this style of dance became popular it soon after made its way onto the Broadway stage.
Many people are very familiar with Broadway, but Broadway isn't the only stage where musical theatre is performed. Another major contributor to theatre is community theatre. Community theatre is where anyone from anywhere can audition without any professional training. You don't even need an agent. According to Lionheart Theatre company, "Community theatre can bring together local youth and others alike for a common goal: to put on a great production. It can teach everyone about working with one another and bettering themselves as individuals and as a whole." Community theatres promote creativity to people of all ages and attract audiences of all ages as well. Community theatre is also more accessible to the public because tickets can cost as little as $5, whereas, on Broadway, the cheapest (and farthest back) may cost up to $60. Theatre can be a gateway to talking about hard topics and can impact people emotionally, while at the same time being used as a form of entertainment. Either way theatre can impact people's lives and is an accessible form of entertainment for people of all ages.

Historically, musical theater has always been controversial, dating back as far as colonial America. According to Diana Harris, author of Beginning Musical Theatre Dance, "During the Revolutionary period in America (1764-1789), some members of the Continental Congress voiced their opposition to theatres and play-going because those pastimes were considered scandalous and distasteful." In fact, many theatres were even shut down, making it impossible for both actors and audiences to participate in the performing arts. Although it may not be quite this extreme, the controversiality of theatre is still relevant today.
One example of a contemporary controversial play is Into The Woods. This play is a retelling of many fairy tale characters who are loved and cherished, such as Cinderella and Little Red Riding Hood. However, in Into The Woods, many of the characters die, and those who live find that their happy endings were not what they expected. Many BuzzFeed critics (such as Louis Peitzman, BuzzFeed News Reporter) have said that Into The Woods "is very inappropriate for young children," while others say that the play contains valuable lessons about life. Whatever you believe about this play, the facts are clear: The roots of musical theater have always been very controversial and most likely always will be.
The history and impact of musical theatre, while it dates back centuries, is still relevant today. The choreography involved in musical theatre has evolved but is nonetheless still a powerful performing art. Despite being overlooked by many people, it still has an impact on society today, even for those who do not recognize it.

Works Cited
Peitzman, Louis. "'Into The Woods' Has Always Been For Adults, Not Children." BuzzFeed, BuzzFeed, 24 June 2014, www.buzzfeed.com/louispeitzman/into-the-woods-has-always-been-for-adults-not-children.
Harris, Diana Dart. "Origins of Musical Theatre Dance." Human Kinetics, 16 July 2015, us.humankinetics.com/blogs/excerpt/origins-of-musical-theatre-dance.
Tindle, Robyn. "Characteristics of the Musical Theater Genre." Our Pastimes, 5 Feb. 2019, ourpastimes.com/characteristics-of-the-musical-theater-genre-12527496.html.

"Why Community Theatre Is So Important." Lionheart Theatre, 29 Jan. 2016, lionhearttheatre.org/why-community-theatre-is-so-important/.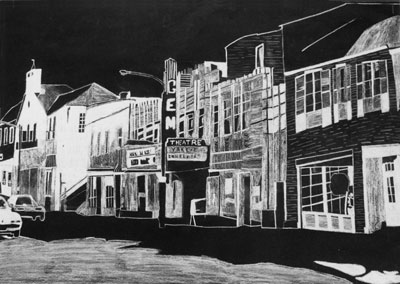 © Chelsea P., Kannapolis, NC