Who I Am Regarding My Cultural Identity
November 21, 2018
As a young black adolescent living in America in the twenty-first century, many people make assumptions about me through a quick glance. When others guess who I am and how I act based on the melanin of my skin, they affirm my belief that the world will never change. These presumptions are due to society's proclivity toward stereotypes, associating everyone they meet with generalizations. Also, too often people do not want to know more and suppose that they already know everything. The only person who can truly identify who I am is me, but it is not an easy journey to find out who I am when there are so many different opinions on things like how I should carry myself, or how to speak so that I can be accepted by others. Opinions like this can come from my parents to people I will never see again. The pieces that make up the puzzle of my cultural identity are still missing because I have only begun to explore my options, I am not yet certain where I fit in, but I can make sense of what type of person I do or do not want to be.
My parents are from Haiti, so I am Haitian-American, which is something I try to get away from saying as much as I can. This means my parents emigrated from Haiti to America, and I was born here. I tend to draw away from this because it feels as if I am not embracing Haitian culture enough by throwing in the hyphen American part, so when people ask what I am, I usually answer with Haitian or black. As far as cultural identity goes, I gravitate towards an American lifestyle: from the vernacular, the way I dress, and to the people I interact with, since I have not come across many Haitian friends. At the same time, I do share some similarities with people living in Haiti, as opposed to the American lifestyle: foods, the strictness of my parents, and understanding Haitian Creole. When I have to, I speak Haitian Creole as well. While I do share some commonness, labeling myself as an American because of my livelihood can give me slight advantages over someone who is directly from the third world, grueling country called Haiti. Still, it will not shield me from every bad thing life can throw my way relating to culture.
My skin is darker than a lot of individuals, and because of this, many people assume things about me before even getting to know what my name is, showing that people really do judge a book by its cover. According to society, stereotypes about black people include, but are not limited to: playing basketball, having a deadbeat father, stealing, living in a slum, being noisy, eating watermelon and fried chicken, and listening only to hip hop and rap. Since Sarah is not exotic and everyone can pronounce it, it is viewed as a "white name." One of the things that makes stereotypes dangerous is that people already have a fixed idea about who I am because of my race, sex, age, and/or religion, making it harder to defy the stereotype. This predetermined mindset can disable a person from truly getting to know me.
Of the aforementioned stereotypes about black people, I defy them all. I cannot play basketball whatsoever; my father is still an active part of my life; my neighborhood, while not the best, is definitely not the worst either; I am only loud depending on my environment and who I am with; eating watermelon actually makes me regurgitate; I seldom eat fried chicken, or listen to rap and hip hop, and I have never stolen a single item in my life. I recall one of my friends telling me her father thought I would be having fried chicken at a party I was having because of my race, and she laughed at the coincidence that I did have the popular dish. Instances like this happen way too often in my life, but they do not make me embarrassed to be black; only annoyed that people are so quick to make irrational inferences.
Besides being Haitian- American, a big part of my life where my cultural identity comes in is within the Track and Field Team. Ever since last year, I have always felt a part of the throwing team. Of course, there are negative labels that come with being a thrower, despite the fact that I was one of the top ten freshman in the country for both the indoor and outdoor seasons. Supposed stereotypes of a thrower is that I am lazy and fat, which is not true. I am one of the hardest working people I know. I wake up early to go to school, play sports, stay up late to do homework and study for tests, get a couple hours of sleep, only for me to start the cycle all over again. At times, the only part of my day that I look forward to is going to practice with my teammates. I feel a connection with them because I get to do something that I love- a sport that makes me feel free and invincible, and can help me let go of all the stresses of life for a little bit.
The only person who can really give me a chance to prove I do or do not exemplify these stereotypes is me. Will I choose to surround myself with people who buy into stereotypes, causing myself to fulfill them and interfering with my cultural identity? People also deny their cultural identity to not be associated with stereotypes, while others turn to stereotypes as a sense of their cultural identity because of a lack of knowledge. If society says that I am a drug dealer and I have no one around me to reject that idea, especially as a child, will I listen to the hurtful words and attain that concept, or will I become something better than what they have painted me as? The only way that I can fit in comfortably in any aspect of my life is to tune out negativity and learn to build confidence in who I am, and the woman I am going to become.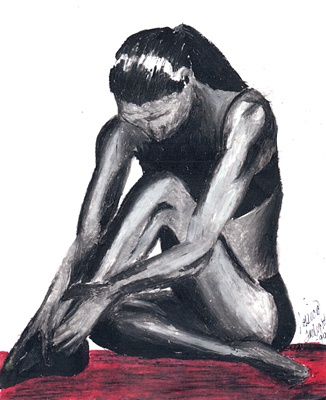 © Jessie Y., Ahwahnee, CA