We Are Art
July 12, 2015
"Art is a way of making life more bearable."

The complexity of realistic human life is a delicate balance of molecules and other aspects of our environment. I don't believe any amount of intelligence will ever be able to understand this delicacy. Often times we tend to wonder why it is that art is such a strong form of expression. We often wonder why it was that F. Scott Fitzgerald, Ernest Hemingway, William Faulkner, and so many other praised novelists were alcoholics. We wonder how Vincent Van Gough, Edvard Munch, and hundreds of thousands of other painters with mental illnesses created such captivating masterpieces. So could it be so that a stereotype is accurate? Does art come from a tortured soul? And perhaps actors are passionate about acting for the thrill of being given the opportunity to become another person; the chance to step outside of reality, even if only for a brief period.

Art: the expression, or application of human creative skill or imagination. But what is human-creative skill? Creativity is interrelated to neuroplasticity. With that being said, neural pathways are directly influenced and shaped by our environments and changes in our emotional state(s). Frankly, we've all experienced a deceptive state at some point in our lives. We've all been sad before: wallowed in misery, sugarcoated our words with ambiguity, self loathed, or just generally felt down in the dumps. We've also all undergone our daily routines while putting on a facade. So due to the wiring of our brains, it finally makes sense that we are our most poetic when we're heartbroken.

Let's rewind to the underlying question; "HOW does Art make life more bearable?" Art is not confined to a few specific categories. It is what we yearn to create. It is what we create. Limited by only our imagination, Art can be an infinite variety of things. With an Earth population of a little over 7 billion; that is 7 billion stories to be told, 7 billion unique souls. So you see, Art may not always be writing or a painted picture. But rather the legacy that we, as humans, construct for ourselves. If art is our creation, then much like how we effect others-- it is what we make it to be and furthermore, this is what relates us. The simplicity in being able to relate 7 billion differing beings is what makes life more bearable. That and being able to take negative energy and use it to produce something beautiful. We are all individual but we are all art, we all create art, and we all have something we feel passionately for even on our saddest of days.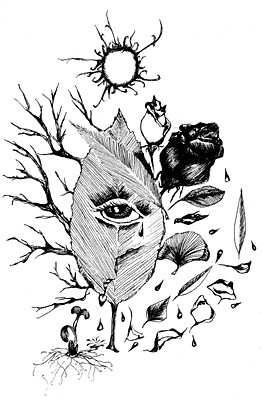 © Cara L., Cheney, WA