Operation Education: Middle East Edition
August 6, 2013
On October 9, 2012 in Pakistan, 15 year old Malala Yousafzai was shot in the head by the Taliban for voicing her opinion on Women's rights and education. The 15 year old would spend the next few months in the hospital but would become a spokesperson for educating girls all over the world, and she would go on to become a global inspiration.
Before the Taliban took over in 1996, women were treated as equals. They held high positions in the workforce and 50% of Afghanistan's women were enrolled in Kabul University. About 60% were teachers in Kabul University, and 40% were docters.
After the Taliban took over, women were not to be seen or heard anywhere in public. All women were forced out of their jobs, and girls were forbidden to go to school. They were stripped of all rights as citizens and were forced to stay at home. Windows were painted over, so women would not be seen. They were only allowed out with a male relative, and their whole bodies had to be covered by a large burqa. If even a little bit of ankle was showing, they were beaten.
After nearly two decades of war, many Afghan men were killed, leaving their wives to be the sole provider of the family, but the Taliban made it impossible for the women to leave their house.If a women left her house without a male relative, she was beaten, raped and possibly killed. If a woman were seen alone in town squares, she was accused of being a prostitute, and she would be stoned to death. This caused many families to fall into poverty which led many educated women to become desparate. The Taliban would take advantage of these desparate women. They would hire them to have sex with them in exchange for money.
Women also found it difficult to get proper health care. Women docters were stripped of their titles, and male docters were not allowed to treat women. This caused an increase in infant and maternal deaths that could have been easily prevented with proper medication. A small number of female docters were granted exceptions to work in a few female-only hospitals. Sadly, female surgeons found it nearly impossible to operate properly from underneath the burqa, and most women who were lucky enought to see the docter were killed while being operated on because the surgeon couldn't see through the burqa.
Because women were forced to lead such oppressive lives, many women sunk into depression and commited suicide. Most fled the country to Pakistan refugee camps. It is estimated 7.5 million people fled Afghanistan when the Taliban took over, and 75% of those refugees were women and girls.
Malala didn't give up after she was shot. She took her story to the media, and now she is a global icon. The Taliban thought they could keep Malala quiet if they shot her, but Malala was determined to get her story out.Now she is a stronger person and has vowed to fight for what she believes in even if it kills her. A true inspiration.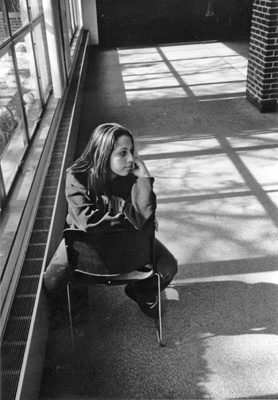 © Leighann E., Westport, MA