Ledges Are For Looking
April 21, 2013
We walked like ghosts that day, in hallways wet with tears and stained with sorrows. Shrouded in black we were literal shadows, our eyes gray, reflecting stormy clouds encompassing a mutual burden.
You were everywhere yet nowhere, ever-present yet absent, invisible . . . yet I saw you around every corner just the same. Your actions engraved our innocence, shifting our blissful stability, and concocting an unforgiving frenzy.
Sadness like this is quiet. Sorrow like this is empty. Yet each feeling has a contradiction: the silence is loud- no one can escape the sound, the emptiness is so full of explanations that never seem to fully answer the constant whirlpool of questions swirling in the minds of the traumatized, the angry, and the grieving.
Your selfless character, your kind demeanor, your teaching manner- this cannot be obstructed by your last inconsistent decision. The stagehand knows to learn by example, and I will never forget, nor will the countless that adore you, your final lesson: ledges are for looking.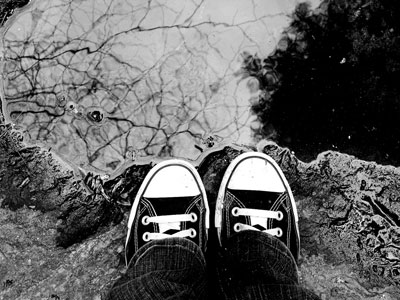 © Michelle B., Blairsville, GA