Secular Music Vs. Christian Music
October 3, 2011
Secular music… how do you feel about it? A lot of us are into Katy Perry, Avril Lavigne, Lady Gaga, Eminem, and Rihanna. We like the tune, we like the words. They relate to us, they make us feel good. Christian music? …You mean that gospel stuff? No thanks. What we don't realize, is how much secular music affects our culture. If we have alcoholic fathers, Eminem relates to us. But what about when he talks about suicide? Still, it must be better than that Christian stuff… after all, it's the Christian stuff that makes us depressed, right?

Well guess what? Wrong. If you're Christian or not, you should still listen to Christian music. I'm not talking about the 90's gospel stuff, I'm talking about the 2011 hip hop, rap, pop, and rock. If you do your research right, you can find Christian music that sounds just like the secular music and relates to you. The only difference is that it's uplifting, not tearing you down. Good Christian artists and bands are Lecrae, JJ Heller, Press Play, and Skillet.
If Christian music depresses you, it might be because the song is all about being a good Christian and you're not. But not all Christian music is like that. When you hear one song that you don't like and say that all Christian music is like that, you're throwing out the good with the bad. It's like when you go into a gas station and the workers there ask you to leave your backpacks up front or follow you around because they're afraid that you're going to steal something or cause trouble just because you're a teenager. Trust me on this, just try it. I think you'll find that some Christian music is really good.
To be honest, if you stop listening to secular music and start listening to Christian music suddenly, you might not like it. But don't give up and in time, you'll find that you've stopped cussing at much, stopped making as many bad decision, and possibly started think much differently. If you want to really see the change, make a journal or diary about all your thoughts, and gradually you'll see a difference. Maybe you're not the kind of person who gets affected by secular music… but maybe you are. Don't be prideful, just try it. After six months, if there's no change at all, then go ahead and go back to the way you were.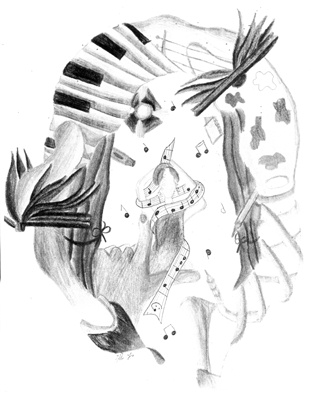 © Kelly L., Brooklyn, NY