Repaint the World
September 11, 2010
Have you ever had an epiphany? Have you ever realized something that completely changed your life? I have. It started with my best friend, Rachel. Through everything I've been through in middle school, I could always rely on her. No matter what happened to me, she always had my back.

Throughout 7th grade, I began to experience a lot of things I didn't know how to deal with. My family isn't like most and it affected me by making me shy away from home. My relationships weren't the best with girls and put a lot of drama in my life as well as some other negative stuff that relationships cause. Sometimes I'd feel completely worthless because my friends didn't want to talk to me and I started to ask myself, "is this what life is about? I'm stuck in a world that follows the media, the latest trends and fads, and everyone who is different is ignored."
I didn't see a way out of my emotional despair so I cut my wrists, hoping it would help. I hoped it would take away my emotional pain and replace it with physical pain. The scars are still there but underneath it all, I could still rely on Rachel to put I smile on my face, even on my darkest days.

Sometimes I find myself wondering how someone could care about me that much and not give up or shut me out. Who wants to be around a kid that felt so alone and lost that he kept everything locked inside of him? So one day, I asked Rachel, "Why do you care so much about me?"

The answer she gave me completely changed me.
"Casey, it's not just me. God cares about you. Even when you think you are all alone in this world, God is there for you. Maybe if you believed a little more in yourself and more in Him, you'd see that. I am your friend and always will be but you'd be much happier if you opened up a little more and weren't so afraid to step outside your comfort zone."

So I thought about it and it led me to not only open up and see the world differently but also live my life differently. Now I probably spend more time talking with God than I do with Rachel. Her answer and encouragement made me ask myself a question that completely changed my life. "What if I did something to change the world for the better? I may be just a kid but I could do it." What she said to me made me pop out ideas right and left that questioned my true identity as a teenager but also as a Christian. I especially pondered one idea and it is that life in middle school can be about much more than just being cool, hanging out and throwing parties. The label known as a "teenager" isn't about age anymore but more about behavior. I told my youth pastor about my thoughts and he gave me a book and said to me that all my questions could be answered in this book. The name of the book is Do Hard Things by Alex and Brent Harris.

Even the title made me ask more questions. A small message above the title said, "A teenage rebellion against low expectations." Now this really got me thinking. So I started reading. About a quarter of the way into the book, I was completely amazed at how many other teenagers just like me had asked themselves that, "what if?" question. But it was what they accomplished that really made my jaw drop. You'll have to read it, I can't tell you the story.
Plus, the book didn't answer my questions. It couldn't answer my questions because the answer lies in the future and can only be answered by me. What if I gave my all in everything I do? What if I took a stand against poverty, violence, prostitution and even cultural lies? What if dedicating my life to Christ could save hundreds, maybe thousands of others?
Though it may be a dream, it would be worth the cost. Gandhi once said, "Be the change you want to see in the world." When I look around I see plenty of things that should be changed. The world is full of people who are driven by media advertising and attracted to a life style that destroys individuality. Just watch TV and look at a few advertisements. They are all the same, telling you what you deserve and desire. They're lies.
In January, I went to a youth worship conference in Springfield. The theme there was how youth could use their gifts and talents for God. Their big motto was, "If everyone's an artist, how will you paint the world?" This really impacted me. It moved me so much that I have centered my life on that one phrase. My passion is music and writing. My dream is to become a songwriter for Christian Praise and Worship. God gave me a talent and by using that talent throughout my life, I can give back to God. I've seen the world from the eyes of an average teenager and I've realized the harm done every single day. Now I'm chasing my dream of painting the world a different color. I've had an epiphany and I hope to create an epiphany in the minds of others.
My life was like being trapped in a burning house. I had to escape it. But if I believed in myself and took a leap of faith, God would direct me to a better place. When I look back and see the ashes on the ground and smoke filling the night sky; everything I had in that house, all of my belongings and memories and things that I could have taken great pleasure in are burned to the ground. My belongings….the things I treasured most…the things I wanted to hold on to even though they kept me away from God.
Now, I see the flames and I can smile through the smoke because I know everything is going to be okay. I'm in the hands of God and if I believe, I will find happiness.
In the trials that I will face in my life, nothing will ever bring me down because I know that Rachel, my friends, my family and God will always be by my side. Think about it. Just one sentence makes all the difference. All It took for me to see the world in a different perspective was one question and one answer. I'm an example of what could happen if we all ask ourselves a "what if" question.
All it takes to make a difference for the better is a little inspiration, some motivation, relentless desire and a never-ending love of the change you can bring.
What if you changed the world?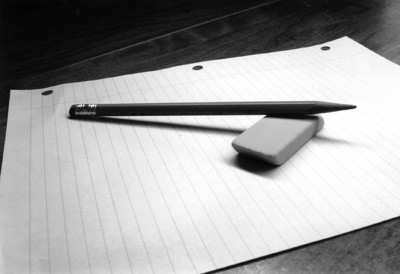 © Michael H., Mildford, CT