To Save a Life
March 20, 2010
A girl died today. She was only fifteen and had her whole life ahead of her. But that was all ended in one second when her drunk friend pulled the trigger on her.
When you hear those stories on TV sometimes you laugh because they're so weird, like the one where a seventy-two-year-old man fell off a cow (yeah, a cow!) and broke his neck. And then there are the ones that make you shudder, the story of a teenage girl who went hiking and never came back. They found her body a week later.
Death surrounds us everywhere. If you really think about it all of life is surrounded by our desperate attempts to survive. We go to school to learn so we can get a job so that we can eat so that we can live and pass it all on to the next generation. (And the next and the next…)
But what's after all that? Does it just end? Does everyone go to some kind of limbo? What about the "after-life"? Everyone has a different idea it seems. What can you believe?
Here, my friend, is the truth.
There is a heaven and a hell. And each of us are going somewhere.
To get to hell you just have to be. It's impossible for any of us to go to heaven. The end? Heck no! On our OWN it's impossible to get to heaven. Because when God created the world it was perfect but we ruined it when we entered the world and disobeyed him (and to all of you out there wondering why God let that happen and didn't just stop us, it's because he gave us free-will. We're not robots or puppets on a string. And we are also not perfect). But he in his awesome plan gave us a way to be saved from hell. It was Jesus. Jesus was God in human form. He came to earth by being born as a human to a virgin and lived a completely and utterly perfect life as only God could do. And then he let himself be tortured and killed. But that's not the end! Because he came back to life. For us! Isn't that the most beautiful thing in the world?! I think so. And now I'll explain why that has to do with all of the heaven and hell stuff. We don't have to go to hell because Jesus took the price of our crap by dying completely innocently so that when we die we don't have to take that price by going to hell. Instead, we can spend forever in heaven (which, by the way, is God's eternal home for us, a perfect place for his creations, the way the world should have been in the beginning). That's it. By accepting God's beautiful plan of saving grace we are free.
It doesn't stop there though. It goes on and on by me telling you and you telling others, because gosh! this is AMAZING NEWS! This is a matter of life and death! If your friend was walking across the road and a speeding truck was about to hit them would you just let them die?! NO. You'd shout to warn them and push them out of the way. And this is the same thing! So get out there and grab your friends from the speeding truck of hell.
There are lives to save.
And they're waiting for you now.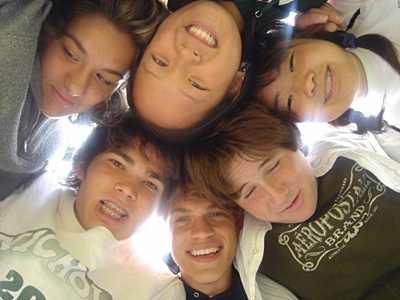 © Zhihan C., Hudson, OH