Relativity
June 4, 2009
The meaning of life. Endless question, really. Takes a whole lifetime for any one philosopher todiscover what we are all doing living here on this tiny ball of dirt, we solovingly named Earth. By then he's ultimately lying dead, while the head nurse calls out time of death. Ahh, the thoughts one has when they see the tunnels light. Of course I wouldn't know. Perhaps the number 47, Im sure (here I insert a moment of silence for all fellow nerds, and geeks if you are easily offended, who have picked up a copy of Eoin Colfer's paper back wonder.)

But on a more serious note. In an attempt to understand life, and whether it actually does have some secret key, I have scoured dusty library bookshelves, searched the web and spent endless hours debating endless minds with fellow genius (ok..So not quite...) And I have found one absolute truth. *Drum roll please*

As many self-help books there are, heart felt memoirs and great quotes from short fat men, No one knows.

Leaving me, one scatter minded teenage girl who prefers the long route of life and often trips on sidewalk cracks, to think, What really is the meaning of life?

I don't know. Sorry, peoples. I have no idea. None at all. Im just as clueless as the next person who stays up late at night just thinking great
thoughts. If you don't see the midnight hours, don't try it, you aren't missing anything. You never get anywhere; just wadded up in a ball of
sheets.

Perhaps it's in the sunsets and clouded out dates to watch sunrises that end in hushed phone conversations ever better then any glorious morning sky. Is it wishing on eyelashes, running in the rain, and midnight conversations where you hide in the closet so long your butt goes numb and you know this stitch in your neck is permanent? Or maybe not.

Maybe it's the mosquitoes that love the cool night air just as much as you, and getting caught for running up the phone bill. Maybe it's when that carefully sheltered wish irrevocably comes NOT true, and you slip in the rain and earn a new scar to your banged up knees. And maybe, out of it all, its when you crawl out of that closet crying, because you know everything you say isn't going to be enough. And hanging up with I love you isn't permanent.

What I have learned though, is life is relative. In every good day, there must be a cruel one to measure the light of the joy. You have to learn to say goodbye before you know how it is to really say hello, I've missed you. I've missed you.

And it's beautiful, really. The way life makes you take the sweet with salt. Its not as if I suggest the annoying little saying of turning life's lemons into lemonade. Seriously. Beside most the time, life's not considerate enough to give me lemons. I get stuck with the limes.
But that's how I see life now. A place to learn. Learn to love. A place to live. And a place to question life's sidewalk cracks. After all, you cant know love if you don't know the acute absence of.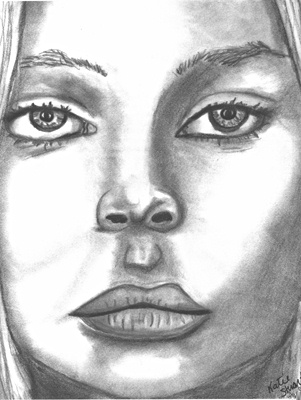 © Katie S., Naperville, CT