The Flag
January 2, 2018
I'm a cat, with a smooth hat, you could tell by the way I hold my strap
that I'm black. The culture you want to be,
in a way your the same as me
all you want to do is be free. But my oppressor is different you see, my oppressor has me
lined up in the streets. Begging on both knees, be slow to squeeze the trigger please.
But I digress cuz that's not the topic I want to present as of yet.
My issue, and I don't mean to dis you, is ignorant people
trying to take away my natural rights. In this case I'm talking
about peaceful expression, attacked with the use of forceful subjection,
on the topic of taking a knee.
Most poorly educated on this topic would say we're disrespecting
the flag and our brave soldiers that raise it. And that's really sad,
because we don't dishonor them, we expose the racists.
We fought just as hard for the home of the
brave, land of the free.
Finally, military sworn.
1st Rhode Island Regiment proud
Turned into  Buffalo Soldier now
A Harlem Hellfighter finally takes the lead
Standing back I watch last Red Tail Angel fly out Tuskegee.
These are just a small sum of my ancestors who fought for this country.
They fought for their life, yet came home and are shown no dignity
Sadly this is the norm. Raise our black boys up and forget about them in the storm
We were never supposed to make it.
So when presented with the opportunity to effect change
We've got to take it.
Whats sacred to you is frightening to me.
Anthems are vaults of culture you see,
That's why I agree with players decisions not to stand.
My reason clearly written in the sand:'
"No refuge could save the hireling and slave,  
From the terror of flight and the gloom of the grave;  
And the star-spangled banner in triumph doth wave  
O'er the land of the free, and the home of the brave!"
 
Not patriotism, but bigotry did the ghosts systematically maintain.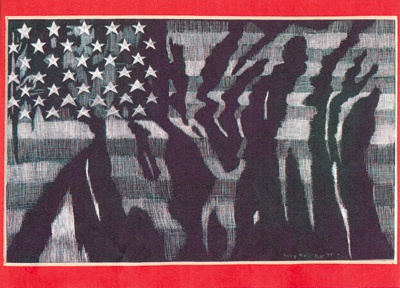 © Haley M., Ellinwood, KS