My Name is Charles
January 5, 2015
Laura was a girl, or at least was born one. Kindergarten was when things started to change. As her parents insisted she should, she wore her dresses and skirts painted with pink and purple, and played with the other little girls that her parents told her were nice. But none of it felt right. She longed for the games that the other boys were playing, how they were allowed in the sandbox with all of those buckets and shovels and toy trucks. It's not that Laura didn't like the games and toys that she and her friends were told to play with, but the dolls and coloring books that she was told were "only for a lady" just didn't fit Laura. When Laura tried to play in the sandbox, she was scolded and told that her parents would get angry for getting her dresses dirty, dusted with sand and smudged with brown and green tinting the floral pattern. At least the kids were okay with her.

As school went on, she didn't get to join any of the boys, just the girl's groups that she had to do school work in. She was constantly told that everything she did 'wasn't lady like'. Statements like that startled her and made her feel even more like she didn't fit in.

Every day, Laura always had to answer her parent's constant questions about how her clothing would always get so dirty "I was just playing" followed by a petite shrug was all of the information that they received.
They told her that she shouldn't be so messy; it isn't what a girl should do.

Laura eventually made the connection that dresses shouldn't be dirty, but the boys in her school were allowed to play in the dirt and grass however they wanted, so one day, she asked her parents if she could get some clothes so that she would, be able to play with and be more confortable with her friends. But her parents neglected to, thinking that it was just a phase and that they shouldn't spend money on something that their daughter would be done with quickly, so Laura had to ask them constantly for three weeks before they let her.

The next year, Laura started first grade. On the first day, she wore her favorite pair of shorts and her new t-shirt, the one with the superhero on it.

The teacher told the kids to get into groups to get to know each other; she was in a group of other little boys. When they asked her name, she thought for a moment. then said, " Charles, my name is Charles".

Charles then grew to befriend them, and they only knew her as a he, and they all grew very close. Charles greatly appreciated their support, and thrived off of his newfound freedom.

As time goes on, back to school night came around. When Charles' parents came they were curious as to how their little girl was doing, and especially curious because of how she was changing.

The teacher merely said "Laura, I'm sorry, he goes by Charles now. We don't call him Laura anymore."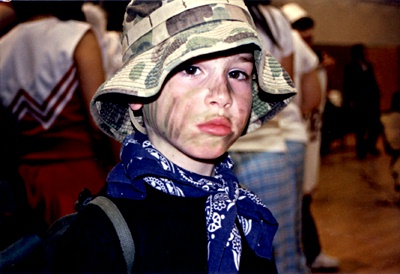 © Dena G., Pittsburgh, PA