The Sistine Closet
MAG
February 27, 2013
Dear Michelangelo,
I've heard the rumors they whisper about you,
And I can't help but wonder
If you've heard about me too.
There is a church in my town
Where they aren't allowed to say my name anymore,
Where the pastor says "we don't talk about her here."
I wonder if anyone has ever damned us both
In the same breath

Dear Michelangelo,
They say you painted men
More longingly than you painted women.
They say you freed David from his prison
In the hopes that he would free you from yours.
They say your hands were clasped in his
When they should have been clasped in prayer.
They say there was a man in your heart
And his name was not God

Dear Michelangelo,
I have been painting girls with my tongue.
I have rolled them around in my mouth
And when I spit them out on the paper
They always arrange themselves into poems,
But I can never get the endings right.
People keep telling me they're supposed to be happy

Dear Michelangelo,
We both know that love
Is hardly ever a happy ending.
We know that some hands can never touch,
That they are separated by too many locked doors
And not enough keys.
We know that some people are games of hide and seek
Where no one is doing any seeking.
We both know how it feels to hide

Dear Michelangelo,
When they ordered you to paint the Sistine Chapel
Did you laugh at the irony?
Did you consider painting it differently?
Did you think about painting the hands touching?
Did you want to paint Adam
Wrapped in the loving embrace of another man?
Did you want to put a speech bubble above God's head
That said "It is okay to love him"?

Dear Michelangelo,
Why aren't the hands touching?
Why aren't the fingers interlocked?
Why isn't one sweaty palm clinging to the other?
Even in our wildest fantasies,
Even in our most famous masterpieces,
The fingertips will always be a few inches apart,
The people will never be happy.
What does that say about us?

Dear Michelangelo,
When I finally escape from here
I want to visit your Sistine Chapel.
I am slowly realizing that not all closets are small and dark.
Some closets are sixty-eight feet tall
And covered in angels,
But they are still closets.
They are still prison cells packed full of skeletons
And the baggage you are too embarrassed
To leave lying around when you have company over

Dear Michelangelo,
When I can't sleep at night I wonder where you are now.
I wonder if heaven exists.
I wonder if God was waiting for you at the gates,
If he looked at you and said
"Don't listen to them. Of course you can come in.
Of course you can come out now."
Michelangelo, tell me there are no closets in heaven.
Tell me I will be allowed to walk down the street
Holding her hand.
Michelangelo, paint me every shade of beautiful you know.
Make me the rainbow that is missing from your ceiling.
Michelangelo, promise me they'll let us in.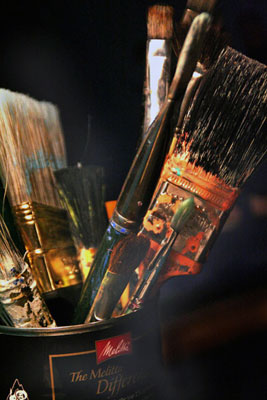 © Marina L., Orlando, FL