I don't hate you (even though every physical fiber in my body is demanding me to)
December 14, 2010
You know those people. Those 'bad' people. The ones you hate. The terrible role models. The moral-less morons whose only mission is to corrupt the morals of the people around them. They hate their own life so much that if they must suffer, they won't suffer alone. If they are miserable they want company. They do not want anyone to experience the happiness that they never got.
I know a lot of them. Some I see on the TV. Some I see holding positions in government. Some are loved by so many people. Some live right next to me. Some are related to me!
I hate them. I hate them for ruining my sunny day with their rainclouds. I hate them for taking the sun away from the people around me, those who matter to me. They make them unhappy. Then I am made unhappy. I hate them.
But they thrive on my hate. For some reason, it only gives them more strength. The more I loathe them, the stronger they become.
'What have I done to you?' I shout. What have these innocent little children done to you that makes you want to ruin their lives so much? Why must you dig up every flower in the garden when all they were doing was growing?
I realize it's not what I have done to them, but what someone else did to them. And all they seek revenge. But deep down inside, all they want is renewal.
And I realize something else. There is no renewal in hate. There is nothing accomplished in anger. By hating them, the only one losing years of life is me.
I hated them. You name them, I hated them. The Eminems, Lady Gagas, and so on. Along with every murderer, rapist, drunkard, cheat and kidnapper. I hated them. And still they lived on.
But they are not to be hated. They are just lost; stumbling around, looking for a way out.
I know you. God knows you (better than me). And I don't hate. I will not criticize you in anger anymore. I will not insult you in hate.
And when you bring your clouds into my sunny days, I will smile and not hate you anyway…cause I have an umbrella.
Would you like to stand under it with me?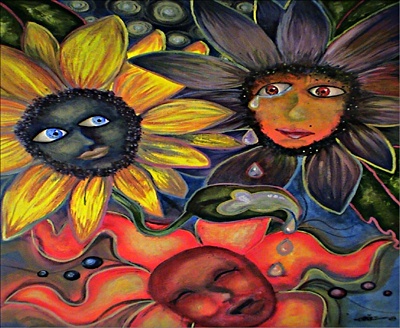 © Christine W., Davis, CA