Courage Sleeps in the Canyon
MAG
Looking out the window, I notice the beautiful glow from what is left of the sun as it melts into the horizon. The remaining layer of light fills up the little valley between the freeway and my neighborhood and turns orange as it hits the red tile roofs of the row of homogenous houses before me. To the right I can see the backyards of my neighbors' houses, fully loaded with pools and palm trees. To the left, I see a hawk soaring over McGonigle Canyon. I watch a show of silhouettes, a few air-balloons rising like bubbles and slowly falling out of focust o join the sun at the horizon.

This is my neighborhood: a primarily white middle-class suburb complete with a family-owned ice-cream shop, a YMCA and an outstanding school district. It may seem flawless, but remember, even Pleasantville had problems.

About five years ago,seven high-school students raided a migrant encampment in McGonigle Canyon. With rocks, iron pipes, pitchforks and pellet guns, the teens savagely beat five workers, all of whom were in their late 60s. Just three days before, authorities had found the body of a migrant worker who had been lynched and dragged.

These migrant workers are human, yet are hunted like rabbits. Most of us cannot comprehend this cruelty because it does not seem real. I certainly didn't expect this to happen in my neighborhood.

I lived near the boys who attacked the migrants. They were my neighbors. One of the suspects lived across the street. I know McGonigle Canyon. I used to walk the paths and bike the trails when I was younger. Every July Fourth, my family would find the highest hill so we could watch the fireworks from across San Diego County. These are the same hills where migrant workers walk and the same canyons where they sleep.

Every day on the way to school I see migrant workers standing on the street corners, hoping for work. I stand behind them in line at Vons while they pay for chicken and cola. These people are real. They are human; when you look them in the eyes and recognize their humanity, they smile back.

The attack had a lasting impact on me. I realized that a person should not be characterized by where they live or what they look like. The boys came from white middle-class families, were educated in a good school and lived in America, supposedly a haven of equality and tolerance. The migrant workers, on the other hand, barely knew English and were living in tents and cardboard boxes in a canyon.

The old men who were beaten were legal immigrants. Like many,they had come to America to find honest work so they could send money back to their families. Their willingness to work hard illustrates courage, responsibility and love that our society should respect and admire, not condemn.

Now, as I look out my window, the sun has disappeared.Before me, the orange light cools and turns to night. The stars, bathing in the sky, are joined by the moon as it swims out from behind a cloud. Tonight, beneath my red tile roof, the moon watches me as I sleep peacefully in my bed. And tonight, the same moon watches a migrant worker in a cardboard box lay awake in the canyon. But tomorrow, maybe we'll learn from the past and stop repeating history. And tomorrow, maybe the migrant worker will sleep as peacefully as I do.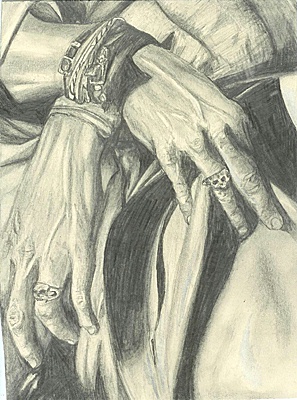 © Angela K., Kansasville, WI