Forced Break Up
MAG
After eight years in a Catholic school, I was finally free - no more uniforms or nuns. I met a ton of new people in high school, some of whom I wasn't supposed to associate with. I learned this the hard way. I didn't see a problem talking to these people, but others considered it horrible and thought poorly of me. One of the nicest people I'd ever met was part of that group.

I liked him for almost a whole year, and I still do. I talked to him in school, on the computer and sometimes on the phone. I didn't see a problem with it, but my family did. Just because he was black. That one factor that meant nothing to me meant everything to my family and others.

It was a week after my birthday when I got the best present ever: he asked me out. My dream had finally came true. All my friends liked him and saw no problem with me going out with him, so I thought I was home free. I talked to him on the phone almost every day and was on cloud nine. Every time I talked to him I would get this feeling that I still can't explain. We never said we loved each other because we agreed that we didn't know what love really was. All I knew was my feelings were really strong. Sometimes I felt they were too strong. I thought about him all the time, and I still do. But just when I thought everything was fitting into place, it all got messed up.

After two weeks, my family found out. They had gone through my computer, including my instant messenger. Suddenly my whole family was over at my house, and throwing stuff at me I could not take. They told me I couldn't go out with him because he was black. They said people were talking about me, and they didn't approve.

"People will think you are trailer trash and your friends' parents will not let you hang out with them anymore," they told me. I couldn't take it.

"He's not like you think. Please don't make me do this. I can't do it. I can't," I begged, crying so hard.

They said, "Stop crying. This is nothing, and it's not that hard."

So I had to break up with him. My parents said that they would take everything away from me, and I would not be trusted to go anywhere ever again. I couldn't believe it. That day I cried until I threw up. Then I cried more. It was the worst time in my life. I've never cried so much. My family had become my worst enemy. I couldn't even look at them. Then they threatened to kick me out of the house if I didn't end my relationship with him. So I had to.

I called him that day and could barely get the words out. I was crying so hard that I couldn't breathe. I told him that people didn't approve of us going out and I had to end it. He told me not to cry because it wasn't my fault, and then it was over.

For the longest time, he didn't talk to me. I was in the worst state I have even been in. I hated my family for making me do this to a person who meant so much to me, a person I could have loved.

To this day, I have very strong feelings for him. It's the worst thing in the world to look at him and see the one difference that ruined our relationship: skin color. His skin color meant so much to my family that I could never be with him again. Maybe someday it will be okay for us to be together. Regardless, I know that he will always be a big part of me.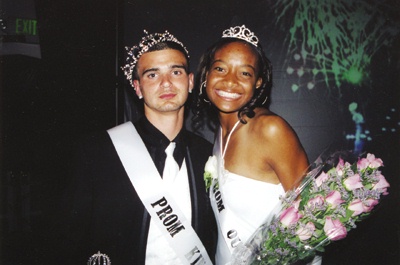 © Melinda M., Phoenix, AZ