One Smile
MAG
I saw that woman every day, even though my mind didn't really register her existence. She was just part of the scenery of faded red lockers, cracked laminated signs on the school walls, and the concrete halls flecked with dirt tracked in by thousands of teenagers. As the janitor, it was her job to wipe down the lockers, clean the floor, and check the signs for graffiti.

The few times I saw her up close, she frightened me. She never seemed to smile and was always yelling at kids for throwing trash on the ground. Some thought it highly entertaining to make her angry and then mock her as she yelled.

I was rummaging through my locker one afternoon when I saw two boys deliberately tip over trash cans, spilling garbage. The janitor appeared out of nowhere.

"What are you doing?" she exclaimed. The boys ran away, laughing and giving each other high fives.

"Hey, ya'll get back here!" she shouted. "You get your sorry butts back here right now and clean this mess up!" After shouting for a few more moments, she gave up. She sighed sadly and began collecting the trash. A few tears fell from her eyes. I noticed a piece of crumpled paper that had rolled over by my feet and reached down to pick it up.

"Here," I said, smiling at her. The custodian looked at me with shock, and for a moment I thought she would smile back, but she simply grunted and went back to gathering the trash. I resolved to be friendly whenever I saw her from then on.

A week later, I was waiting outside my teacher's door for a piano lesson when I saw the custodian coming my way with a large, noisy floor waxer. I waited until she was next to me and shouted, "Good morning!" with a huge grin. She stopped and looked at me, her brow furrowed, a calculating look in her eye. Then, she smiled back. Her two gold front teeth gleamed in the fluorescent light, with slightly crooked incisors, but she had a beautiful smile all the same.

We continued this relationship for a few months. Whenever I saw her I would smile and wave, and she would do the same. The most we ever said "Good morning" or "Have a nice weekend!"

Then one day when I was again waiting for a music lesson, I saw her. I smiled and waved, expecting her usual response, but this time she asked a question I think she had wanted to ask for a long time.

"You're not from around here, are you?" she asked.

"Well, I've lived in Natchitoches all my life, if that's what you mean," I told her. She couldn't disguise her surprise.

"Oh," she said, "I just thought ..."

"What?" I asked, careful not to sound forceful or condescending. "Why did you think that?"

"It's just ... you talk dif'renly an ... you're so fren'ly," she said, not looking me in the eye. "I don't get that a lot, especially from ..." her voice trailed off, but I knew what she meant. There was a moment of thoughtful silence as we stood there, a black woman and a white girl lost in our private moment, and a new revelation.

After that day, the custodian and I have become real friends. I tell her about my classes, and she tells me about her family. What this experience has taught me is that little gestures of kindness are often the most appreciated. By offering a simple smile and cheery hello, I helped give this woman a better day and gained a valuable friendship. The fact that I am a student and she a custodian, or that she is black and I am white, really doesn't matter. Perhaps through these small gestures of kindness, we can all build a better world, one smile at a time.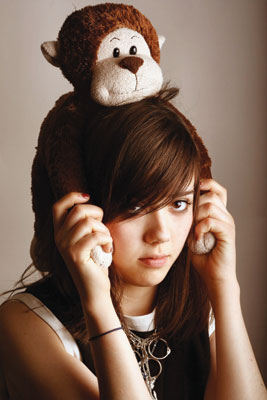 © Elena P., Bronx, NY