Kick The Cliques
MAG
On a rainy Monday morning just before the school bell rang, it started.

One group of students, some with black hair and clothes and earrings dotting lips, eyebrows and tongues, stood to the right of the school doors. Other students, some wearing jeans, fitted sweaters and ponytails, gathered to the left.

Neither group acknowledged the other.

There is no denying the separations in our school, or any school, for that matter. Segregation, previously associated with skin color, now refers to what you wear, how you act, and even your financial status. It's not the money that divides us; it's the money that gives us the excuse to divide ourselves.

Within a high school, there is a sea of students who skip every pep rally and avoid athletic events. There is also a troop of football players who proudly don their jerseys on Friday and the devotees who flaunt their admirer's number. Then, there is a crowd of overachievers who have yet to discover the real definition of "overachiever," and the trio of hippie-esque boys who kick around a worn hackey sack. High schools have their own soap opera of cliques.

Financial status seems to influence profoundly these cliques. It is an unspoken weapon, but most have it chiseled within their brains that certain looks, actions, or friendships mean either a fat wallet or an empty pocket. People have chosen to allow money and possessions to choose their friends. Girls with designer handbags separate themselves from those who clutch instrument cases. Guys who wear jerseys cannot hang out with those who wear skinny jeans. The money in our wallets does not dictate this behavior, we do. We look at the size of the paycheck instead of the student cashing it.

It is often said that with age comes maturity, yet friendships in elementary school were formed based on real chemistry and commonality. The cool kid was not the richest, he was the muddiest and loudest. The kids we wanted to be friends with were the ones who stuck peas up their noses, not the people who made us look good.

It's a commonly held belief that high school students are cruel and judgmental, that only the label-wearing, letter-earning, social and elite kids are truly happy with their high school memories. We are not brave enough to reach out to one another for fear of embarrassment. Cliques produce stereotypes. Stereotypes, not cliques, produce ignorance. Let's take a cue from our elementary persona and kick the cliques.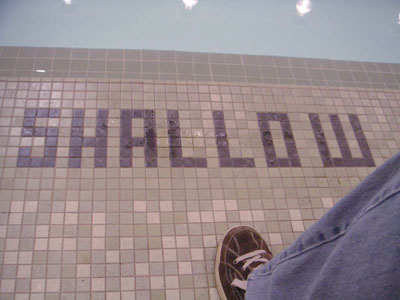 © Anonymous