Give Him a Chance
MAG
January 22, 2017
"Give Him a Chance" by Hannah Polak is a well-written political opinion piece that eloquently sums up our recent election. However, I must respectfully disagree with the writer. Hannah begins by stating her reasons for "wash[ing her] hands of both Trump and Hillary Clinton a while ago." A third-party voter, she clearly explains her frustrations with both candidates.
Now, I agree with the idea that we must try to unite for the good of our country. However, I strongly disagree with Hannah's statement "This is not about my opinion anymore." In light of the campaign and its result, everyone's opinion matters now more than ever. It is our duty as Americans to stand up for our opinions, especially if it means going against the people in power.
The essay goes on to state that our nation was built upon the principle of freedom, which is true. But then Hannah says that even though we are given the right to express and assemble "… don't be ignorant enough to try and defy this presidency. This is not a time for ignorance." I recently attended the Women's March on Washington, as a fiercely feminist democrat. I saw firsthand the frustration of hundreds of thousands of people who, like me, believe that Mr. Trump's administration will not uphold the principles of freedom that our government was founded upon. Hannah's saying that we are ignorant to try to defy this presidency is unfair.
I will defy this presidency not because I am ignorant. I will defy it because I do not wish to live in an America where he is the face of our nation. Our president is supposed to be a representation of the people. But I am not a racist, sexist, homophobe, or, frankly, a bully. Yes, I believe that it is our duty to give the new administration a chance. But I will not give Donald Trump a chance. He has already used too many "get out of jail free cards." He has demonstrated in too many instances the type of man he is. I will not accept that man as my president. I will not allow him to take away liberties that centuries of activists have fought for. It is my purpose as a citizen of our nation to fight against people who threaten the acquisition of liberty and justice for all.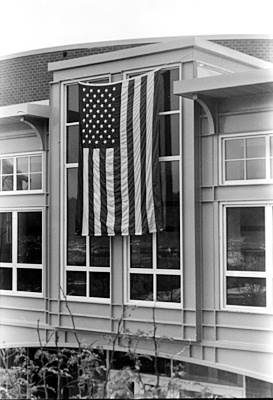 © Chuck K., Marblehead, MA