Sex: Would You Like Love with That?
MAG
April 25, 2011
Sex. There, I've said it, so you can get your giggles out. Young people often laugh when the topic comes up, but we rarely take the time to discuss the reality of sexual intercourse. Mike Myers' Austin Powers, an icon of teenage comedy on the silver screen, played off innuendos and sex puns to no end. Sexual comedy amuses us all. But this is no time for childish games. Innuendos and "that's what she said" jokes are best left in the movies. This is not a health class lecture intended to scare audiences into abstinence, however – just a rational look at a taboo subject that causes innumerable problems today.

What is sex? It's only a three-letter word, yet it carries myriad connotations. Some enjoy sex casually. Others believe the act should be undertaken only with one special person, and some choose not to have sex at all. Nowadays it seems that in many Western cultures it is normal and acceptable to engage in intercourse with multiple partners. Among some groups of young people, it's acceptable and even encouraged to "hook up" with multiple partners. Many college parties encourage risky behavior that in nine months results in more serious problems than a simple hangover and a walk of shame in the morning.

To me, sex is much more than an act between consenting partners. I think it's a chaotic and beautiful mixture of emotions – namely love – intertwined like the persons involved. Without love, sex is merely a biological impulse and a lustful means to a self-gratifying end.

Above all others, parents hold the power to impart advice and values – especially those regarding sex – to their children. Sure, there are health teachers, but they mainly teach the biology behind the issue. Parents should teach morality, values, and respect – concepts vital to proper rearing. Religious or not, most reasonable parents will not condone their child engaging in promiscuous sex, given their concerns for health and the possibility of unplanned pregnancy. However, parents who do not discuss sex frankly with their puberty-bound children will leave them confused. Young people who don't understand the issues at play can become parents themselves and raise another generation of adolescents who are confused by this weighty topic.

The media adds to the problem, glorifying the idea of sex while diluting its true nature. Music, advertisements, and popular clothing styles often promote sexual themes. Snoop Dogg, 50 Cent, and many other rappers proclaim their status by bragging about their promiscuous sex lives. Female role models including Britney Spears and Miley Cyrus seem to wear less clothing every day. Even "family" TV programs contain commercials that use sex appeal to sell products, such as Kim Kardashian's ad for Carls Jr. Strip clubs and pornography shops continue to line city streets, only worsening the issue.

Our culture desensitizes us and separates love from sex. Even so, sex should not simply be an act to tell a partner that you love him or her; rather, it should be an endpoint reached only through selflessness, sacrifice, and effort to establish and maintain a stable relationship.

Like a slug, our culture's confusion about the value of sex leaves in its wake a slimy mess of problems. Divorce rates in America are skyrocketing, tearing apart families and resulting in less parental oversight of children's behavior. Sex abusers, offenders, and harassers act selfishly and inappropriately, destroying sex for their victims. An alarming proportion of college students suffer from sexually transmitted diseases, some of which can lead to cancer and infertility. All this from what should be an act of love.

Those mature enough to realize this will find happiness in relationships built on a solid foundation of actual love. Passion alone can only bind a couple briefly. Hook-ups, though they may be passionate, only breed selfish desire. Too many relationships begin with sex, which means the partners haven't learned to truly understand each other yet. The love factor, the genuine emotional aspect, is lost amid lust. Before long, the relationship falls apart since it was built on nothing but a whimsical, short-sighted view of romance. And we wonder why divorce is rampant nowadays.

No Law of Conservation of Love exists, however. But with improved parenting and emphasis on love, sexual intercourse would find much-needed reform. This shift that would benefit everyone. Parents would impart important life lessons to their children on the subject, leading to closer family ties and more involvement in children's lives. Fewer divorces, babies born out of wedlock, and less incidents of sexual abuse would lead to fewer family and social issues.

Once this attitude shift in our culture occurs (however long it may take), the media will begin to change as well, gradually reducing the emphasis on lustful sex in pop culture. Add love to the equation and more couples will begin to truly understand one another when intimate.

As we take a step back from the commonly accepted idea of casual sex, the truth emerges from the social mud. Parents, the gardeners of children's sexuality, must take responsibility for nurturing their saplings until they mature and blossom. From there, the fully grown adults must take charge of themselves. It requires maturity to understand sex for what it really is. Those who find love rather than a self-gratifying act are those who discover its true definition.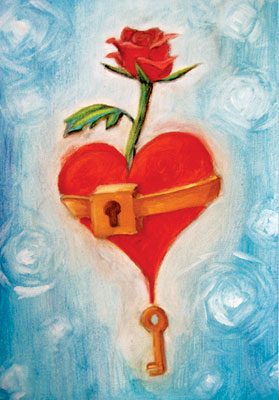 © Louisa L., Pleasanton, CA