The Antibiotic Epidemic
MAG
April 24, 2008
Imagine a bacteria that infects your blood, leaving spider bite-like pimples and boils all over your body, potentially leading to death. Imagine this bacteria is resistant to treatment. This is a superbug. Methicillin-resistant Staphylococcus aureus, usually referred to as MRSA, is an infection that cannot be treated with most antibiotics – in fact, it was one of the first drug-resistant bacteria discovered in 1961. MRSA is spread through contact and can be deadly. The main reason it is so dangerous is because antibiotics are being misused. Last year I became aware of MRSA because I had it.

MRSA is a serious threat to many individuals. Thirty to 50 percent of the population carry colonies of Staphylococcus aureus on their bodies all the time. But if the bacteria gets inside our bodies, it can make us ill, and only a few antibiotics exist that will treat MRSA.

The two types of the disease are HA-MRSA and CA-MRSA. HA-MRSA occurs when someone has been hospitalized prior to getting the disease; in U.S. hospitals, MRSA causes 40 to 50 percent of staph infections. CA-MRSA is when patients contract the disease from their community – through athletics, for example, or in the military, or in prisons. The CDC reports that in 2003, 12 percent of people with MRSA infections had this type. CA-MRSA is particularly scary because it targets healthy people as well as those with weak immune systems. In other words, it is spreading into the general population.

Rates of CA-MRSA infection are growing fast. One study of children in south Texas found that cases of CA-MRSA increased 14-fold between 1999 and 2001. The average age of a person with HA-MRSA is 68, whereas for CA-MRSA it's only 23. This could indicate that the bacteria is becoming stronger because it is able to attack healthier people.

For the most part MRSA only affects people with weak immune systems or those who have been in close contact with them, but this could change. Simple ways to contract this bacteria include working out at a gym and not wiping down a seat, having an open cut and touching something that someone with MRSA has touched, or even being examined by a doctor who hasn't washed his or her hands between patients.

People infected with MRSA have boil-like lesions on their body that may resemble spider bites. If the infection is serious, shortness of breath, chest pain, and fatigue may occur. Patients can die from blood infection.

Many people are "colonized'" meaning the MRSA lives in their nasal cavity but they show no symptoms and are not actually infected. Approximately one percent of the population is colonized, and while they are not at high risk, they can still give MRSA to others.

Last year I was told that MRSA had colonized my nasal passages. Because of the risk of spreading the bacteria to others, I was forced to stay out of school for a week and was given Vancomycin, one of the few antibiotics that still treats MRSA. I took the entire bottle of the drug, as instructed by my doctor.

Although humans are not completely to blame, for the most part this epidemic is our fault. You see, when people are prescribed antibiotics but do not complete them, the bacteria most resistant to the drug may remain alive and infect another person. Next time, that antibiotic may be less effective in killing that bacteria. Adding to the problem are doctors who overprescribe antibiotics, giving them to people who don't really need them.

In addition, farmers routinely feed their animals antibiotics to keep them healthy. Agricultural and prescription antibiotics get into the water supply, which contributes to the evolution of bacteria. In Europe, routinely feeding animals antibiotics is banned, but this has not yet happened in the United States.

This is a major problem, because if we do not stop misusing antibiotics, then we will lose them, and we will have nothing to fight infections with. People need to become aware of this problem and take action.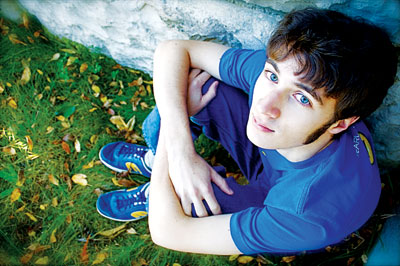 © Garrett M., Port Angeles, WA