The Deed
February 9, 2018
"Good things happen to good people."Growing up in a hispanic community this was a commonly used phrase. All my life I wondered how to make this apply to my own life and what being a "good person" actually meant.
When entering high school I did not really "find myself" during my freshman year. I would hear about different clubs but I did not care to pay attention to them. But once sophomore year came around, I became more interested in different clubs and sports I could join, more particularly one specific club, interact. This club was the answer to the long-asked question I always had in mind. I finally found a way I could give back to my community.

After hearing about this club from a friend I promptly dashed to put my pen against the sign up sheet. I was told to sign up for different community service projects, my hand quickly wrote my name under a specific project, Andre House.

As we entered Andre house the following day, this kind lady explain to us what Andre house was all about. Basically it was "a place where the less fortunate can get a warm meal, a warm shower and often a place to sleep." I instantly fell in love with the idea of helping the less fortunate to obtain our everyday necessities.
I immediately liked the way the volunteers here were helping the less fortunate. What came next can be said to be part of this whole experience that touched me the most. The volunteer told us to gather around so she could say a prayer, she read a verse from the Bible that was all about the importance of community service. This opened my eyes to what community service was all about.

I helped prepare the meal by cutting up vegetables and fruits I as well as with ten other kids, and we directly started getting ready for the homeless to come into the dining room. Something I admired was the fact that the homeless were referred to as our guests, which showed me that everyone is exactly the same no matter what. To my surprise, when I saw the amount of people out in dining room I was astonished. One thinks they know exactly what's going on in the world yet they have no idea. I saw so many people out there that it made my eyes tear up. I remember whispering to myself and saying "oh my God."

I recall feeling as happy as a clam when serving the homeless. All I could think of was that each one of them had different story to tell. I knew that if I were in their shoes I would probably come to a place as helpful as Andre House. As I served the fruit to the homeless I looked each one in the eyes and said "God bless you." Most of them looked at me back with such an accepting look and said it back. They were honestly some of the sweetest people I've met.

When I got home I could not sleep. I had this great feeling in my heart. Ever since then I enjoy helping the less fortunate. I realized that community service is such a great thing because it does not only help people in need but it also helps others build character.

Since that day, I give thanks for everything because I now know that I am as lucky as a pot of gold in a bed of four-leaf clovers. Words cannot explain the great satisfaction that's left when one helps people in need of essential resources. Places like Andre House make me maintain high hopes for our country.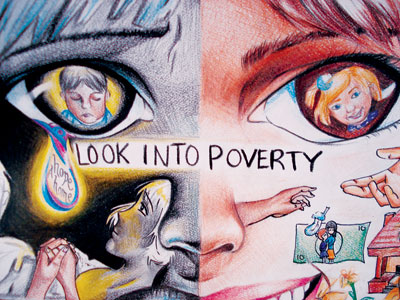 © Shirley L., Chino Hills, CA