My Traveling Library
MAG
March 21, 2017
Earlier this year, I created the Gustine Traveling Library by transforming an old ice cream cart into a portable library. I wanted to spread literacy to young people and seniors in my community. I hoped to get kids outside and reading books again instead of staying inside all day playing on electronic devices.

When I first started the project, I had about 100 books and took my cart to local parks in my hometown. Now, after seven months, I have received over 2,000 donated books, and I travel to neighboring cities in California, as well as my own.
One day I was in a park in Gustine, and a little girl and her siblings saw my cart. They ran up, thinking it was an ice cream cart, and were surprised when I told them it held books. They began to read the books, sharing with each other what they were reading. Then their parents called them, and the little girl started to hand me back a book that had Elmo on the cover. When I told her she was allowed to keep it, she cried out with joy, "Mom, I got Elmo!"

That experience, along with many others, inspires me to keep expanding the Traveling Library so kids everywhere can enjoy reading great books. Recently, the Traveling Library expanded to Oklahoma, where a custom book case was built in front of a diner. People in the community can go there to get a free book.

The Traveling Library has been recognized by politicians and famous people. Senator Costa and Assemblyman Adam Gray from California both gave me certificates for the work my Library has been doing for youth. President George Bush, Sr. and former Vice President Joe Biden both sent signed letters and autographed pictures to the Library for its work and dedication to helping others. Famous comedian Jeff Foxworthy has also donated his signed books for the library to use for events. I am now helping other towns in California build their own traveling libraries and organizing collections to send supplies to victims of Hurricane Harvey in Texas.

Founding this project has made me the youngest entrepreneur in Gustine, California. Other businesses are now partnering with my library to help spread literacy throughout the U.S. President Trump is sending an award to my hometown in honor of all my service with the Traveling Library this fall.

I use the Traveling Library as an example to youth – if I can create something out of a rundown ice cream cart, then you can too. You can make a difference by donating books, helping youth get off the streets, or millions of other ways. I like to tell others to leave your handprint, your mark, a legacy for future generations to grow from. Help them to make a difference by seeing the difference you made. I hope my story will help show others they can make their dream a reality; they can get out there and make the world a better one.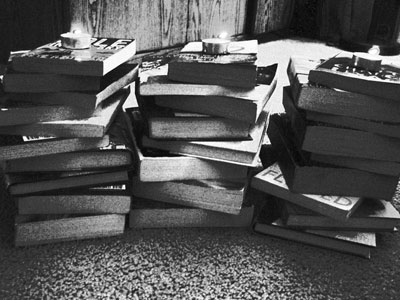 © Alexis R., Clarkdale, AZ