Half the Sky
July 5, 2015
I wasn't born in America, and I never knew my birth parents.  I can't even picture their faces.  I was adopted from China at the age of three and a half.  As I grew up, I began to question the world around me, and the identity crisis I faced every single time I looked into the mirror.  On the outside I looked Chinese, but inside I was American in every possible way: baseball games, hamburgers, and Halloween.  For my whole life it was a juggling act between two cultures I felt equally tied to.
I don't have any baby photos.  This fact alone saddens me, because I feel that knowledge is a gaping hole in my past and a personal right.  The orphanage only gave my adoptive parents pictures of me as a toddler, playing with other children on a toy airplane or hugging a massive teddy bear.  In 2000, the Half the Sky Foundation (HTS) launched their preschool pilot program in Hefei, Anhui Province.  I was a direct beneficiary of HTS's services as a preschool student at the Hefei Children's Welfare Institution. 
Fourteen years later, I would return to China on a volunteer trip sponsored by HTS to complete the circle.  A group of twelve adoptees had been selected to help serve as the primary caregivers for medically fragile orphans at the HTS China Care Home in Beijing.  I learned that the Home was an intermediary center for orphans either before or after medical treatment. 
Upon arriving at the center, I changed from sneakers into plastic slippers and proceeded to wash my hands.  There was a board in every room that listed the name and medical condition for each child.  I was assigned to the older room, and I quickly befriended a ten-year old girl with a severe spinal tumor.  Our favorite activity was to blow bubbles or color in the drawing books.  During their meals, we helped feed the babies porridge and kept the older ones company.
I was immediately touched by the close relationships that the nannies fostered and the love they expressed for each child.  One day I heard a squeal of happiness, as a girl was reunited with her orphanage nanny.  Whether it was clapping to songs or helping them use the bathroom, these nannies were committed to the well-being of their children.  In 1998, HTS was founded by Jenny Bowen, an adoptive mother, with the sole initiative to provide family, loving care for Chinese orphans.  The NGO has expanded providing training for caregivers and the Family Village for children with special needs that the Chinese government has determined will not be on the adoption list. 
Close to the end of the two weeks, I learned that the oldest girl, who was fifteen, asked one of the caretakers when she would be adopted.  Mei had learned that we were all adoptees returning to our motherland—a whole world away from the lives we had cultivated in America.  I was overcome with grief, because I never wanted her to feel that she was less than us.  We all shared a common beginning, a red thread that would connect us forever.  Simple gifts were the theme of the trip.  In parting on the last day, Mei gave me an origami lotus flower.  It is easily the most treasured item I brought back. 
Volunteering at the China Care Home helped me visualize a lost past.  Now in the mirror, sometimes I am reminded of a child's face and I pause to reminisce.  With a child bouncing on my lap, it was hard not to wonder what stroke of luck had separated me from her fate.  Had I sung and clapped to the same children's songs on the tape recorder?  The inspiration they gave to me radiated from their laughter and smiles.  I never felt like a Chinese local on the streets.  Nevertheless, walking alongside the other adoptees, I couldn't help but feel enveloped in the warmth of complete acceptance.  Half the Sky's name originates from the Chinese proverb that states women hold up half the sky.  Half of my sky is America and the other half is China.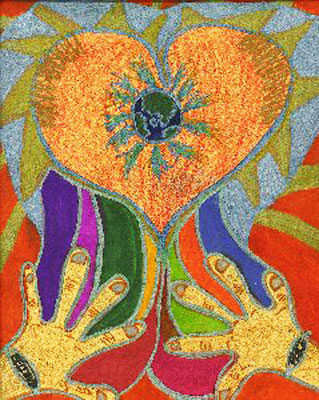 © Amanda P., Clermont, FL