5 Ways to Help the Homeless
March 19, 2014
Signs that read, "Hungry please help," people walking up and down the corner of the street, looking for the kindness of a stranger; you are probably somewhat familiar with the lives of the homeless. Many homeless people have experienced tragedies such as death of a spouse or other family member, a physical disability, or, loss of job. Sometimes the smallest gesture can go a long way. What can you do to help?

1. Sympathize with the homeless and respect them as individuals.
Now, do you know about the "Golden Rule"? The "Golden Rule" states "treat others as you would treat would like to be treated". Do you respect those on the street? If you don't, try taking a step in the shoes of someone on the living without a home. That woman you see, with the narrow-frame, the cracked lips, and dark circles, is a single mother of 2 kids. She lost her job and hasn't been able to find a new one. She fears for the health and well-being of her 8 year-old son and 10 year-old daughter. She prays for a kind stranger to help her in some way, even if you're just giving her your respect.

2. Give food or donate a bag of groceries.
The next time you got into Starbucks to buy a hot chocolate on a frigid winter's day, try buying one for a homeless person. They will appreciate it a lot (unless they're really just a swindler.) Remember the single mom you saw on the street earlier? Yes, the thing is, she really needed nourishment for her and children, and when you gave her that bag of non perishable grocery items, you made her day.

3. Help out at a shelter or soup kitchen.
Donating your time to help prepare a meal for a homeless war veteran, or tutor a child on the street is even more precious than donating your money.

4. Give gift cards.
It is a depressing truth that many of those people beseeching for money on the corner of your street, use the money given to them for drugs, alcohol, or gambling. I live by a liquor store and whenever I pass the store I see many of the people asking for money on the street with bottles of "Jack Daniels" in hand. So to avoid losing money to help prolong someone's addiction to cocaine, buy a gift card to a store like Publix or a Super Target.

5. Let them know about work opportunities and nearby shelters.
This can be a big help. Many homeless don't have access to a computer; many jobs are found through the internet and without the internet it is hard to find a career. You could carry a quantity of cards with the phone numbers and addresses of nearby shelters and employment opportunities.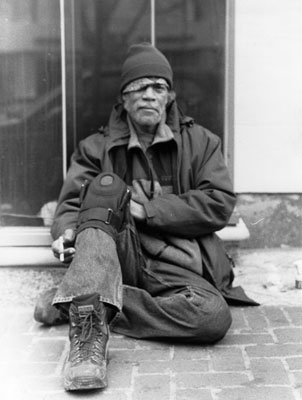 © Marie D., McLean, VA