Mission Work in Guatemala
July 10, 2013
In March of 2013, I embarked on my life changing journey as a missionary traveling to Guatemala. I traveled with my church in a group, and we had the pleasure of working with a mission located in San Lucas Toliman, Guatemala, right on the edge of Lago Atitlan (Lake Atitlan). We also traveled to San Antonio Palumbo, and set up a medical and dental clinic there for the last few days of the week. I had never given a thought about how this trip could change my life.

Throughout my life, I have been taught the Spanish language. The first day of mission, I was set up working in the medical clinic. A small girl watched me for hours from outside the gate, clearly hesitant to enter. After long hours involving counting and sorting pills for patients, I took a break and conversed with her.

It being my first day, I was nervous to speak a language I had never spoken outside of class, but am I glad I gave it a shot. The girl, Michelle, and I talked for hours together. I guided her over to other children playing nearby, and ended up reading and translating an English book with them. I found that they were all fascinated in learning new languages! Upon asking, I found that many of the children were unable to attend school for they couldn't afford it. They also couldn't afford medical or dental care, which is why they and their families ended up at our free clinic. All check ups and procedures were completely free, and open to everyone. We had all connected in a way I had never imagined, because we were all so different, yet there we were, talking and laughing as if we had known each other for years.

On another note, I just have to add that walking through the streets every day, I even thought, was an adventure in itself. Watching the rusted, old trucks fly down the dirt roads, and just hearing the street vendors yell out what they had in stock in another language was incredible. Every shop was decorated with beautiful, handmade textiles and colorful trinkets and fruits. It was fascinating to be part of the bustle in the markets, and to meet the different people all around you. It was like floating through a whole new world; almost like I was living in a dream.

Another memory that sticks strongly took place in our makeshift clinic in San Antonio Palumbo. We were stationed in a church at the top of a cliff, and there was only one room. The doctors' offices were separated by thin, cotton sheets that hung from clothespins stuck to string winding and crossing about the ceiling. Our "waiting room" was a small area outside of the church, with plastic chairs set up in rows.

I was placed in the dental section of the clinic. My job was to make sure the children were brushing their teeth correctly, and also to apply fluoride to their teeth.

I was shocked to find that the majority of the patients had never, ever, brushed their teeth in their life before. The idea was completely new to each and every child I saw, some with an age as high as fourteen. Some people were fortunate, and had only the issue of plaque build up, while others had blackened and broken teeth.
At the end of the week, I found that I was amazed at the joy present in all of the childrens' faces at all times. Some children faced trouble with asthma, some with scabies, some with rotting teeth that they didn't have the funding to treat. Every gift was precious, and every single child that came out of the clinic with bad news acted thrilled to have receive their solution.
I have learned to be grateful for everything I have, because many of the Guatemalans live in poverty today, and they are thankful for the very air they're breathing. Going through life with a smile on my face is easier than with a frown, because I am thankful for my how fortunate I am to be attending school, and to be buying new clothes when they're outgrown. I'm joyful for my family, to have a family, to have a safe and warm house. I have been taught to be overjoyed for everything I have, and that has made all the difference.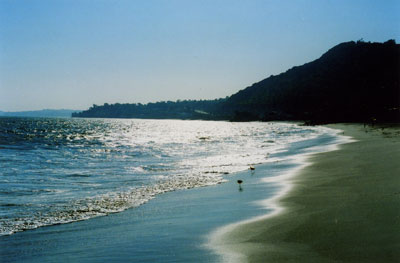 © Adam L., Washington, DC