Inwanted Birthday
February 28, 2013
What if they don't like me?

What if I say something to offend them?

What if they can't understand my accent?

These were the questions that violently danced in my head as we waited for the kids to arrive. My body was acting as though I had just ran a 10 miles race . My heart was pounding against my rib cage at a dangerous rate causing the rest of my organs to work overtime. Sweat was pouring down my forehead while my ears and hand burned with the passion of the sun. I was fighting for dear life as I struggled to retrain my subconsciousness to breath.

I swear my heart skipped two beats when the supervisor announced the arrival of the children. I didn't know what to expect since it was my first time actually interacting with homeless people. My church youth group had volunteered to play with the kids at Phoenix Rescue Mission, a homeless shelter in downtown Phoenix, and I thought it was a wonderful idea. ...until now.

As i fought to stabilize my breathing pattern, i accidently caught the glance of two siblings. Now what? Before i could break the fragile bond that formed between us during our eye contact, a side of me that i didn't know existed consumed the cowardly me. I jerked up out of my seat and walked over to the sibling before i even knew what was going on.

"Hey, I'm Victory," i said with what i thought was a welcoming smile.

Silence.....

"What's your name?" i quickly asked in an attempt to dissolve the awkward silence that was creeping in between us.

"He's Vincent, and I'm Elizabeth" said the younger sister as she ran to join her friends, leaving me with her brother.

We decided to play a round of UNO for a stack of candy. During the game, we started to talk about small things such as his interests and favorite color. I asked him what his favorite holiday was, expecting him to say Christmas because he receives gifts on that day, but instead, he told me that he loved this day because that is the one day he can actually sit with his mother and relinquish their current situation. I was astonished by this response from an 8-year-old-boy. Later that day, Vincent's sister told me that his birthday was the next day; however, he wished it to be forgotten. I was deeply sadden by this announcement, in his innocent attempt to lessen the burden on his mother , the kid hides his youthful excitement that kid his age openly express every year. I realized that i had to do something, something that was sincere, something to restore his youthfulness.

"Happy early birthday Vincent!," i said as i handed him an ill prepared birthday card with a rushed monochromatic drawing and banal birthday greetings. When he opened it , his big sea blue eyes lit up like a candle in a dark room. He then gave me a smile, an actual smile, resulting in my heart filling up faster than a helium balloon. I was on cloud nine while he jaunts around showing the card to his friends.
This was a memorable day for me because not only did i learn to appreciate the little things ,but also the joy of bringing a smile upon another person's face.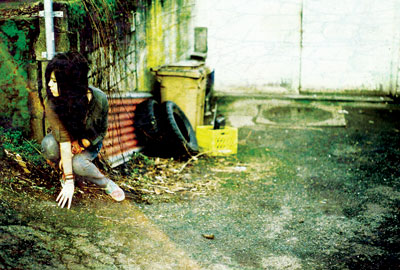 © Hailey J., Lake Oswego, OR