Power of Words
MAG
I soon got used to hearing sarcastic comments like "They don't deserve your help" or "Why don't you call your group 'Books for Crooks'?" when I started the weekly Sunday morning book sale to raise money for the Prison Library Project. It was disheartening to experience the prejudice against those who made a mistake resulting in their incarceration. However, I came to believe that the good that I and other volunteers could do and the growth we could promote for them would more than justify our efforts.

The Prison Library Project itself is not new. Founded in 1973 in Durham, North Carolina, it moved to Claremont, California in 1986. This little-known nonprofit organization provides reading materials to prisoners and prison libraries with the belief that this is not just a nice service to improve prisoners' lives, but a way of helping them develop and be productive citizens. Over 30,000 books, magazines, and tapes donated by private citizens are sent to 600 prisons, most as a result of inmates' requests. Volunteers read their letters and fill their requests, packaging the books for mailing.

The most moving part has been reading the letters prisoners wrote. Not hostile or demanding, the inmates write with warmth and appreciation for anything we can do.

Before I began, I jokingly imagined that the inmates would request murder mysteries, books facilitating escape plans, or materials on illegal schemes. I could not have been more wrong! The two types of books most commonly requested are Bibles and dictionaries; self-help and educational preparation books are also popular. Most prisoners genuinely want to better themselves. They request books for spiritual guidance, for getting higher education and degrees, and advice on raising their children when they are released. Their letters often describe their painful feelings about the crimes they have committed and their desire to make amends. I am moved by their sincerity and gratitude for our interest and help.

While many generous individuals, bookstores, and publishers donate materials, funds are needed to mail books to inmates since the cost of sending three to five books is three dollars. Donations, grants, rummage and book sales, and a small used bookshop provide some of the funds, but more is always needed.

A few friends and I started the weekly used-book sale at the Sunday Farmer's Market, both to raise funds for mailing and to increase awareness of the PLP's mission. We have been able to raise $150 each week, which translates to 50 packages. I have an amazing sense of accomplishment realizing that our little booth - with just folding chairs, a card table, portable tent, boxes of used books, and PLP pamphlets - makes it possible for 50 prisoners to receive books they otherwise would not have.

Equally rewarding have been the positive comments (far outweighing the negative) we have received. Many people openly tell us stories of relatives or friends who were incarcerated and how much they appreciate what we are doing. Farmers at the market often bring us drinks and tidbits; they, too, identify with the plight of inmates because of their own experiences. A week does not pass without an emotional moment in which we learn of the need to increase the opportunities for prisoners through education.

My interest in American literature and literacy has led me to consider a career in teaching and research. Too often, education is reserved for the advantaged since those who have luck, personal strength, and family seem to go to college. Many are less fortunate. Organizations like the Prison Library Project help inmates take steps toward new, more productive lives. I have been fortunate to be part of this incredible effort.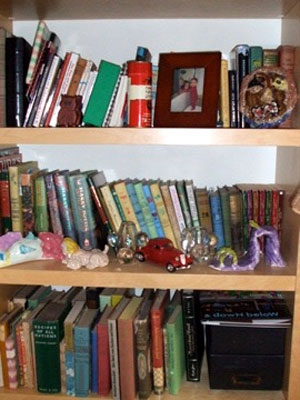 © Nina M., San Francisco, CA