The Shatter of Sanity
May 24, 2013
Friends washed away. I spoke up but no one listened. I cried but they thought I was being dramatic. I cut because I couldn't take it. They thought I wanted attention. I drowned in pain; it was his word against mine.
I cannot even remember why it started, but all I can see is that first message popping up on the screen. The ping of the instant message struck me like a bullet. The sounds of snickers from my peers haunted me. There were his words highlighted in yellow and in Impact font, size 18: "fat, stupid, drama queen." My heart stopped then sank as I read, "Go kill yourself Hannah, you don't matter to anyone."
The salty tears tasted too familiar. My desperate pleas for help were not answered by the ones I trusted the most. I begged for assistance from the counselor at school, but I found myself powerless because my words were purely noise.
My time at Smith School** was slowly coming to an end. With graduation in sight, I was desperate to leave the school I had inhabited for the past nine years but feared entering the world without the friends I had stupid fights with, who, with me ripped the heads of Barbie dolls. My diploma from Smith School was to be my golden ticket out to what I thought would be a new beginning.
The eighth grade graduation party was held in late June in the newly-renovated cafeteria covered in colored tiles with walls stained with the smell of spoiled milk. I was excited to celebrate the past nine years of my life, but when I look back on this night, I see only bursts of what transpired, none of which was enjoyable.
I was pinned to the ground with vanilla frosting swirled around my face and clothed in a soaking wet shirt, drenched in water from the bottle he poured on me. The chaperones, two of my classmates' parents, stood up for the boy and blamed me for his actions. Hearing the adults holding me responsible was a shock to my system and, in an instant, my body was abducted from my mind, my heart rate shot up, and I ran away sobbing, screaming, until I collapsed in my mother's arms on the sidewalk.
"Is everything OK here? We received a call from a neighbor that someone was very upset on the sidewalk." My mom reassured the police officer that I was fine. "Should we call an ambulance or do you want to take her to the Emergency Room?"
My crippling pain finally shone through. It frightens me now to think that an episode like that had to happen in order to be taken seriously. Only a few days earlier I had graduated from the school that had ignored my cries for help. My parents were clueless on what to do. I felt alone, powerless even, but knew I had to do something to restore my sense of self. I wrote a lengthy email to the police department's domestic violence coordinator which ultimately initiated a "non-contact order" between the boy and me. My phone was soon flooded with malicious text messages from his friends blaming me for his behavior. Two weeks passed before the influx of messages finally subsided.
About two weeks later, I woke up to find an e-mail message from "Urban Dictionary" in my inbox. "Thanks for your definition of Hannah Zack! There's one more step: click this link to review and confirm the definition." Someone went on my Facebook page, copied my email, and made it appear as if I posted a definition of Hannah Zack, including that I, "enjoy taking waddles around my kitchen ... and only have friends because they love my pool." The whole definition, about a half a page in length, just got worse, word after word. This boy held my vulnerability in the palm of his hand. He zeroed in on my physical disability, an aspect of my life over which I have no control. Insult after insult, blow after blow, word after word. I let go of myself as my own identity was ripped from my soul and took me on a path of nauseating self- hatred. This time, I barely even knew this boy.
His words awoke thoughts that were kept deep inside, destroyed more friendships, shattered any amount of trust that I had with anyone, and reminded me of the ugly truth: people still define me by my physical disability. I am not publishing this blog post for pity. I want to expose the real details, the raw emotion about the effects of bullying. Daily, I find myself reading articles about yet another victim who committed suicide because of their torment and distress inflicted on them by their peers. Adults responsible for protecting kids such as principals, guidance counselors, and teachers are afraid of speaking out on a student's behalf. I cannot comprehend the reasoning behind the adult disinvolvement.
I want my voice to be heard, not just for myself but for all of the victims out there. If the administration at South Hadley High School listened to the aunt of new student Phoebe Prince when she told them that Phoebe was susceptible to bullying, maybe Phoebe wouldn't have hung herself. If teachers had stepped in and stopped the tormenting of 12-year-old Gabrielle Molin she may not have been founded hanging from her closet just a few days ago by her 15-year-old sister. How can victims come to trusted adults when just about no one can be trusted anymore? How many more innocent kids have to commit suicide until adults will willingly step in?
The two boys tried to take my voice away, but I survived, and thanks to them my voice is thunderous. For the past three years, I have been keynote speaker for the Understanding Disabilities program in my town. The goal of the program is to demystify disabilities and eliminate fears young children may have about disabled individuals. During my speeches I start with an tidbit of inspiration and go on to discuss the effects of bullying and teasing I received as a younger child because of the way I walk. It is remarkable to watch the children grow over the thirty minutes I speak for. I feel the connection in the room, it's a spark that goes off when I am able to communicate with them that I am just like them.
Three years ago, I did not know if I would make it this far. I almost gave up, I was teetering on the edge of life and death but I knew it was not my time to go. The past few years of my life have not been easy, I still have my days that seem unbearable but I hold on for my family, friends, and for anyone who has felt their voice has been silenced. But most of all, I have not given up because I do not want to become just another victim of bullying. I am not a victim anymore, I am a survivor and I will not let anyone take that from me.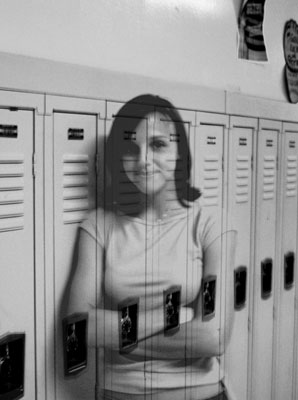 © Amy D., Troy, OH