The Dwindling Thread
April 14, 2013
It's one of those things you can only see in a person by looking in their eyes. It's a feeling you constantly shove down in the deep, endless pit of your soul and you hold it there. You layer each & every gut-wrenching sorrow upon hatred, upon fear, upon the desire to just fit in. And when you take that moment to sit down and wonder what you're still holding onto, you're not quite sure. Part of you feels that maybe it's the little good in all of us that keeps you going and you grasp at that one hope in your heart that has yet to be denied. But how long can this go on?

This is how it feels to be a teenager. Too thin, too fat, too dumb, too smart, too tall, too short, not enough cleavage, not enough muscle, not enough friends, not enough, not enough. But who's responsible for drawing the thin, unforgiving line that deters us from being all that we dreamed? Was it social media? Or is this something that's gone on since the beginnings of time? In this age, children as young as 9 and 10 have committed suicide due to bullying and harassment.

The psychological and emotional effects of bullying can stay with a child well into adulthood. That being said, you were meant to live for so much more. This world can be cruel, hurtful, deceitful. Maybe you're not even bullied. Maybe you just don't quite fit in with the rest of society. And just when you feel like you've got the hang of being a teenager, the world sucks you in and spits you out like an overly glorified novice.

It seems impossible so you shut your eyes, but you can still hear. You cover your ears but they still speak. You build up a wall of defense but someone will earn your trust, tear them down, and betray you. And I agree; it isn't fair. Nothing in life is ever fair. With that, you watch that everlasting cord of life and slit it. For the first time in your life, you feel something. You feel physical pain and you savor every bit of it because what else is there to feel? Physical pain can be easier to deal with than its emotional counterpart, after all.

I see the pain in your eyes. But we both know that you can cause yourself more pain in a day than they ever could in a week. I see the hurt within your heart. But we both know you aren't entirely alone. I see the wrong in their words and I see the fault in their assumptions and I see the limitations of the law that prevent you from receiving justice. But there's a note in the pages of a book. It says, "Don't be afraid, for I am with you. Don't be discouraged, for I am your God. I will strengthen you and help you. I will hold you up with my victorious right hand," (Isaiah 41:10).

You are not worthless. You are not where you don't belong. You are beautiful in every way. Not because I say so, but because you ARE. It is true that you are nothing like the rest. You're better. Because if you weren't, why would people go so out of their way to make you hurt? Jealousy and ignorance make people do crazy things. And a lot of times, they don't even realize they're doing it. So hold on to that dwindling thread that keeps you together. You have some strength left in you yet.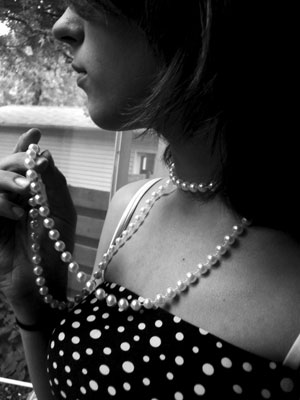 © Elaina V., Canton, OH